Work space is a broad term, as home working could be a work from home office, a home based business or a hobby building.
Your Garden Building as a Home Studio
As a home studio for your work space, we create warm, comfortable environments with reduced noise and carefully designed natural and artificial lighting. These factors provide the basics for a quality and efficient garden room which may also require video calls, a quiet area or meetings.
Subtle options such as internal blinds provide privacy and seclusion when needed along with sun blockers. The direction and size of windows and doors can allow a view of your family using the garden as you work. Our Low E solar control glass also helps control heat and sunlight ingress.
We find that work areas fall into two categories, finished and workshop.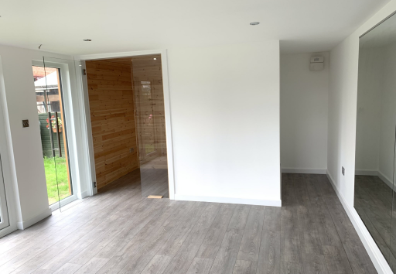 A beauty room, shop or clean work environment will usually be a plastered and painted interior with general lighting. Flooring, mirrors and shelves can create fitness suites and gyms. Interior walls create separate rooms for consultation, reception, office or storage.
We spend substantial efforts and money on creating and maintaining an image and pleasant environment for our businesses. Investing in a quality garden studio creates a more positive statement to visitors and paying customers. Certainly more than a low cost building does. Exterior facades can create a wow factor to those visiting. Whilst the interior needs to be a controllable pleasant environment for anyone who spends time there.
Your Garden Building as your Workshop or Storage Area
A workshop could be finished at a lower cost to a lower specification with unplastered walls. This could be ideal as a hobby room or craft room. Or as as a storeroom or heavy working area with heavy duty shelving, ramps, handrails and pathways.
Our garden rooms can transform into another use at a later date with the addition of plaster, flooring and a cost of paint.
Sheds are often replaced by modern garden buildings which have a separate unfinished area to created an insulated and hidden store for garden tools and garden storage.
Laminated flooring offers an easy clean surface whilst carpet tiles are better for sound proofing and may be ergonomically better if standing for long periods. Workplace Health and Safety is a legal requirement when employing staff but also good working practice for you.
Risks and maintaining safe
Risk is always a key consideration against our strengths in a business. We use a variety of insurances to cover our business, vehicles, staff etc. So, ensure that any new garden building is insured too. Valuable equipment and information is often retained in a work space. We reduce risk further with our heat strengthened double glazing and insurance-approved multipoint locking as standard. This is applied to all windows and doors.
Your clients, staff and management will need your garden building to just be as reliable as you. Our CAT6 fixed line internet connection offers a more reliable option than a stretched Wifi. Our IT partners can assist further with cameras, security systems, additional sockets and networking.
Something for Everyone
Kingdom Rooms can design a garden office or workshop building to suit your budget. We give advice on potential tax savings and pitfalls to avoid when offsetting costs against your business.
Our energy efficient buildings, lighting and heating help reduce the costs to your business. This helps in reducing home heating and lighting usage, so can create a personal cost saving too. Investing into a better quality building with low maintenance or maintenance free materials help to free up the time. Additionally, it helps with future remedial costs associated with lower cost buildings.
Services such as water and waste for a sink or toilet are available. These normally require Building Regulations, which we can design and build to and assist you with.