Our Environmentally friendly garden buildings serve many purposes with a home gym and fitness suite certainly proving popular. Creating a dedicated space for home workouts or even a personal training business saves the otherwise cumbersome movement of equipment whilst creating an efficient, safe, planned and professional environment.
Our home gyms and garden room home gyms are a great option whether you're trying to adopt a better lifestyle or if you're someone who is tired of spending time driving to and from the gym.
Whether a fully equipped garden room home gym, yoga retreat, pilates space or dance studio we can design and style your garden building to suit your exact needs!
Benefits of a home gym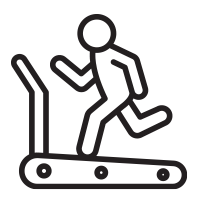 It's all yours
You'll have your own space and equipment set up how you like it, without the distractions of a normal gym.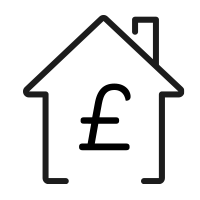 An investment
As well as adding value to your home, a garden room as a home gym will save you money on costly gym membership fees.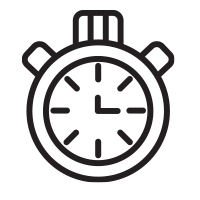 Save time
With a 30-second walk to your garden room home gym, you can save time and money on your commute to the gym.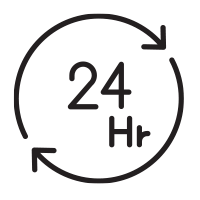 24/7 365
Without the risk of lockdowns, you can work out whenever you choose, day or night, throughout the year.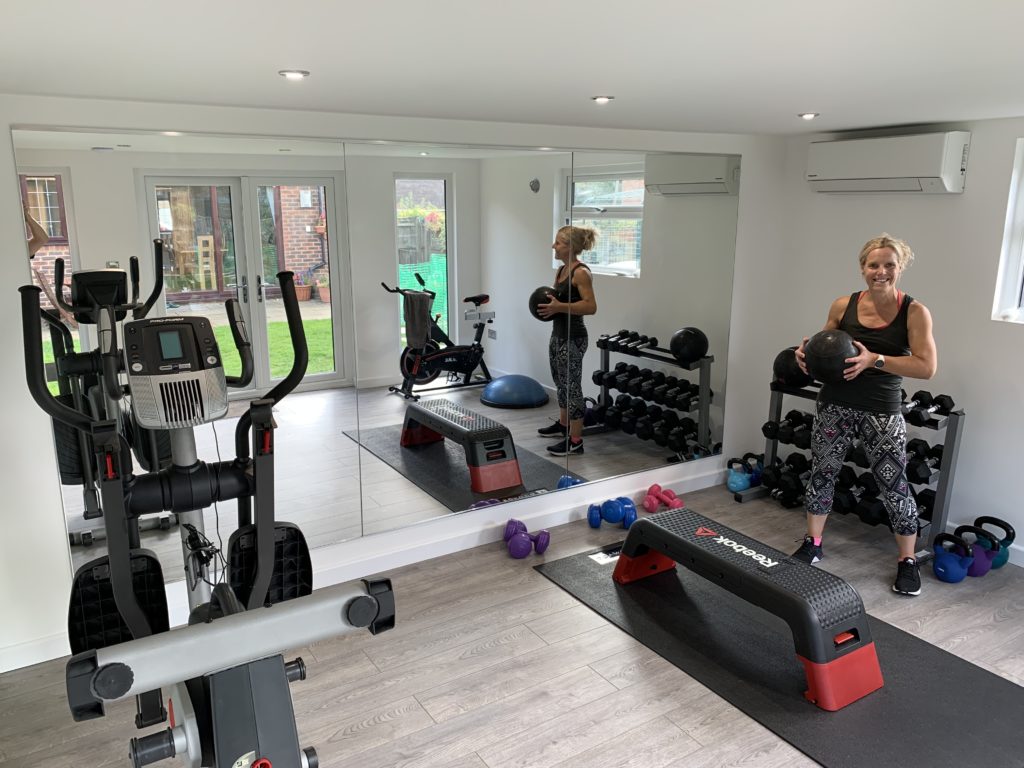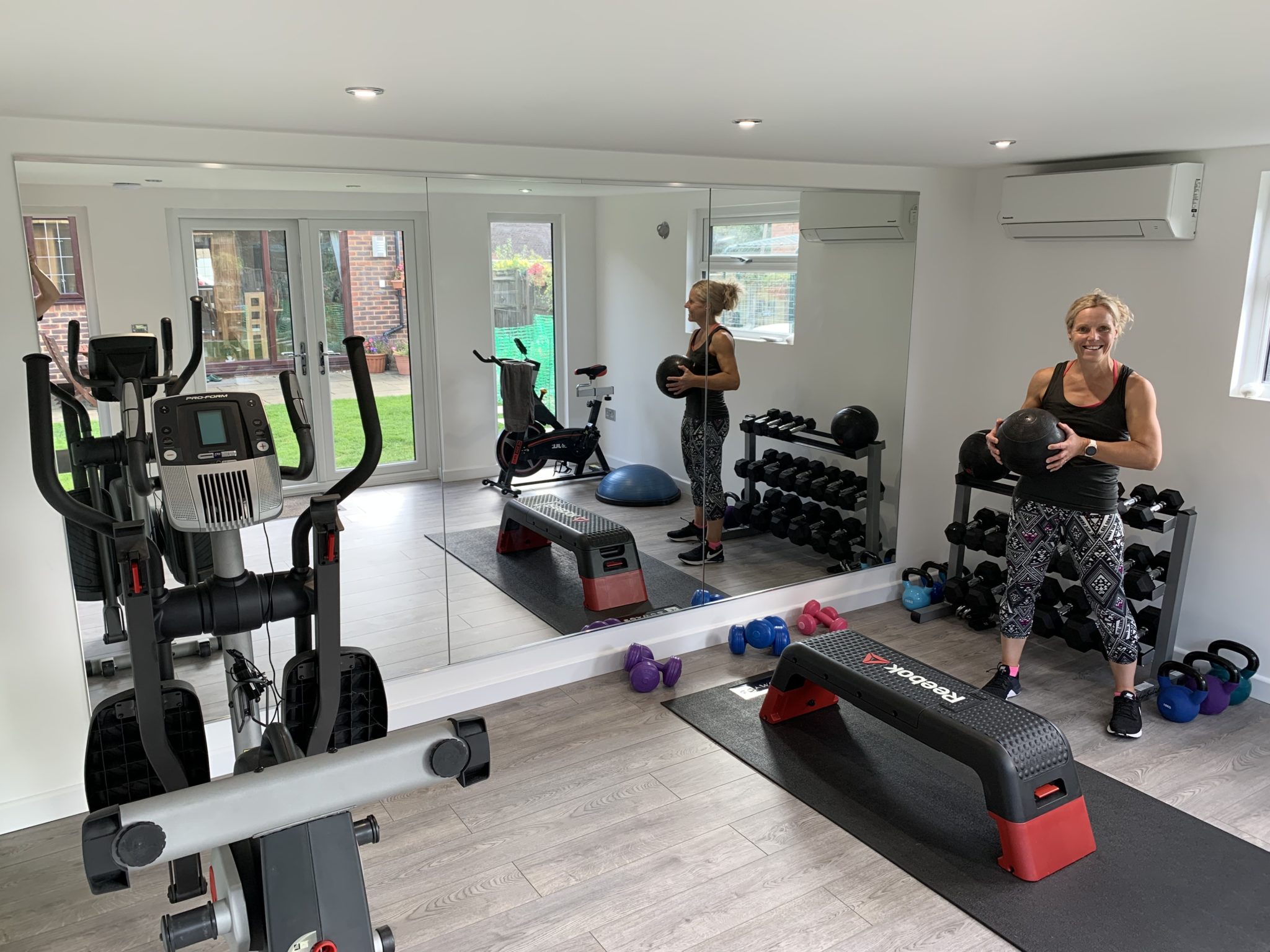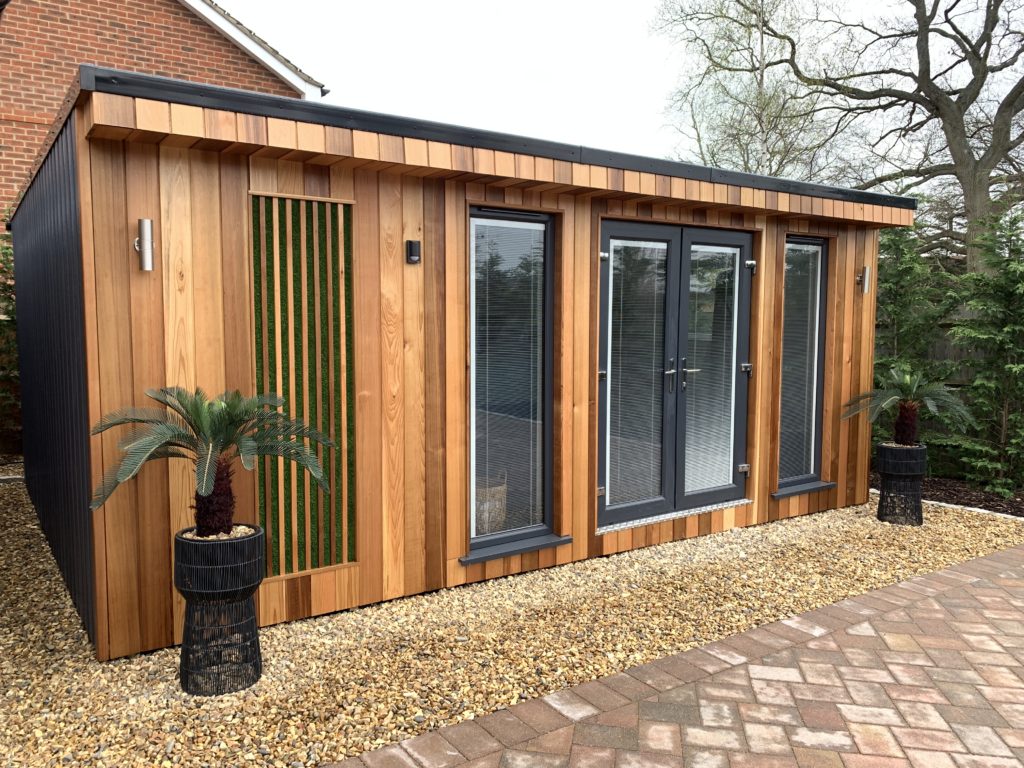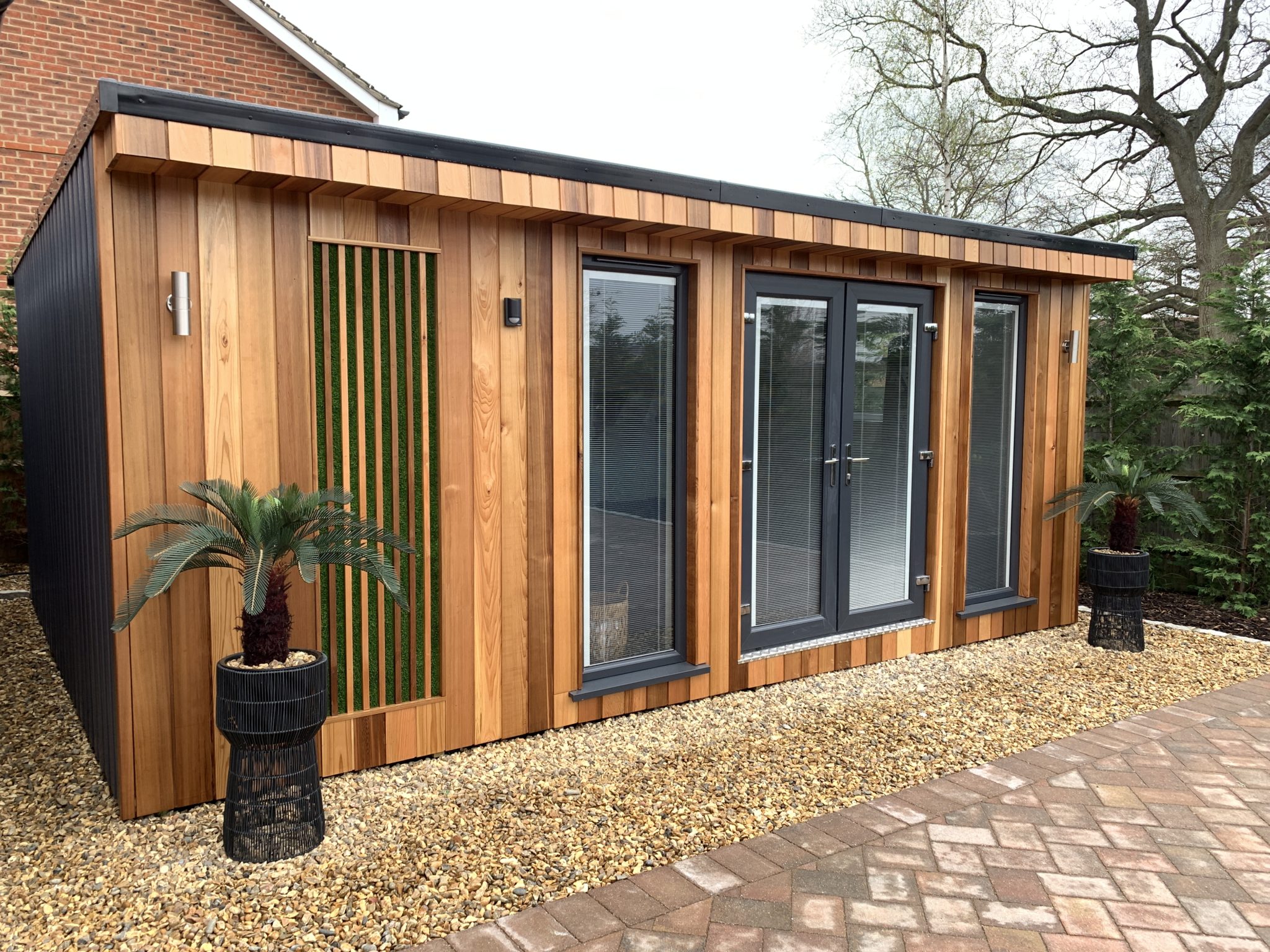 Can my garden room home gym be soundproofed?
Super-insulated walls, roof and flooring help reduce heating bills by stabilising temperatures whilst providing great acoustic insulation in your garden room gym. Ideal if you wish to avoid the neighbours hearing that workout soundtrack.
How do I stop my garden room home gym from getting hot?
Our Designer can help with light ingress through windows and doors and their orientation to the potential heat and distraction of direct sunlight. Our innovative internal blinds can assist here along with our air conditioning option. Whether your garden room gym is for personal use or as a business, we understand that a workout needs to be a comfortable experience.
Can I have internet in my garden room home gym?
CAT 6 internet connections enable a perfect supply to any cameras and streaming or recording of classes.
How sturdy is a garden room home gym?
The Kingdom Room's sturdy construction is well suited to gym and workout hardware too, allowing for solid fixtures. Our evenly distributed and substantial ground screws and pads are designed to withstand your most physical workouts (we do upgrade the number of ground here to be sure).
Is a garden room home gym a good investment?
If run as a business, there may be tax savings in the cost of your building and fixtures. We can give you guidance, but always advise that you speak to your Accountant. If ran purely as a business premises, this could in real terms save you thousands of pounds on your purchase price.
Tip: Ask your Accountant about Capital Gains Tax too. It is best to prepare now to ensure that a future house sale does not leave you with an unexpected CGT bill.
Multifunctional home room home gym
As well as just a home gym, we can design your garden building as a shared space for alternative uses. This may include a sauna or a hot tub for relaxing post-workout, incorporating a TV or projector screen for entertainment.
Our floors can be adapted to support hot tubs and pools, so most garden room buildings need nothing more than our standard and substantially supported bases.
Home Infra Red saunas are popular, not just for their therapeutic benefits, timber garden buildings appreciate the removal of humidity that would otherwise cause issues to the interior and structural wood.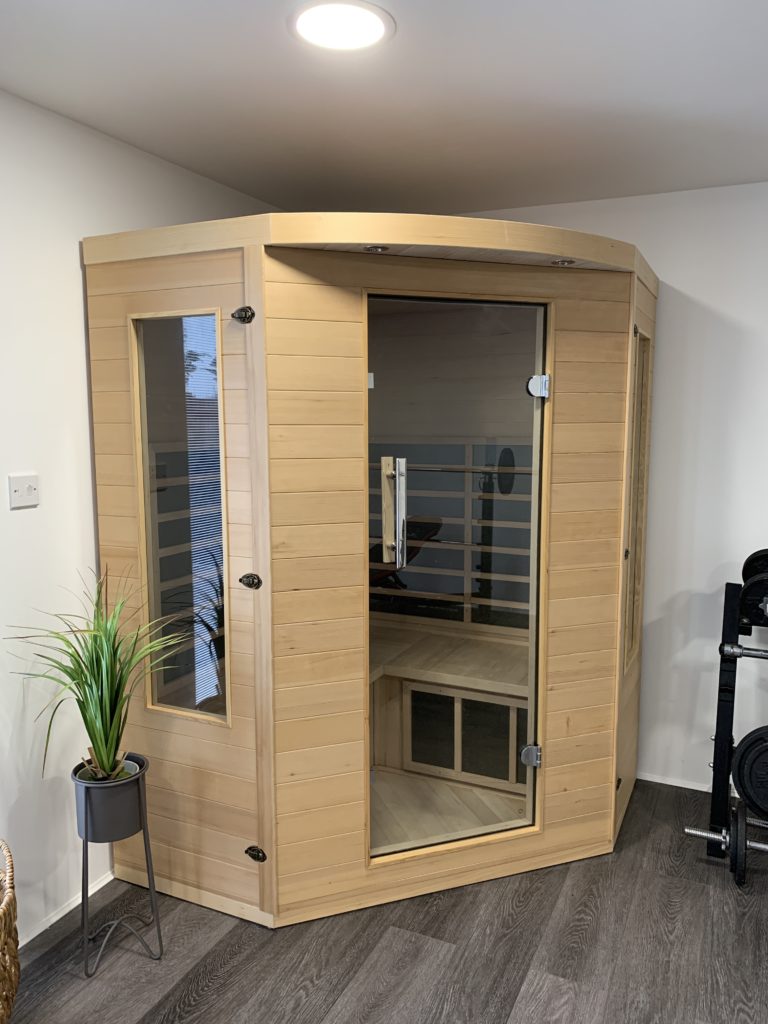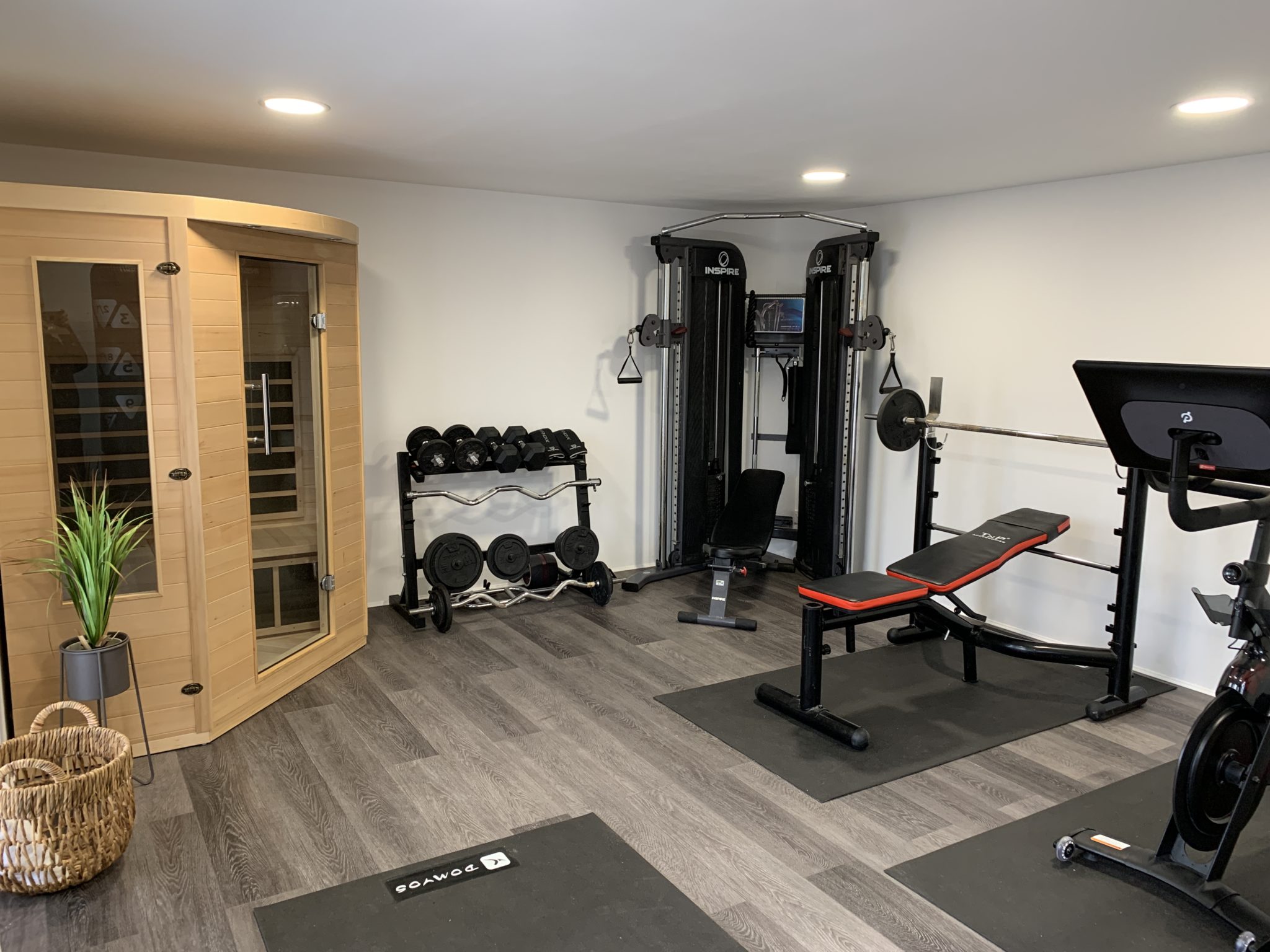 Garden room home gym features
Our garden gyms can be built to a size that suits you, depending on how much space you need and the available space in your garden. However, keep in mind that if your garden gym is larger than 30m2 in floor area and higher than 2.5 meters you'll require planning permission.
Walls, floor and ceilings are already substantial but can have additional fixing points added for heavy equipment fixings like a boxing bag and TRX hooks.
Our mirror walls use a trim system allowing for future movement (if you wish) with compression points behind and safety backing to a thick mirror for optimum safety.
We offer air conditioning and heating systems, heat retaining and solar rejecting assets, and internal blinds for a controllable interior temperature and privacy in your garden gym.
Kingdom Rooms are proud to partner with Velvaere Studios for bespoke home gyms. Velvaere offers a complete bespoke service for home and commercial gyms. Learn more here >>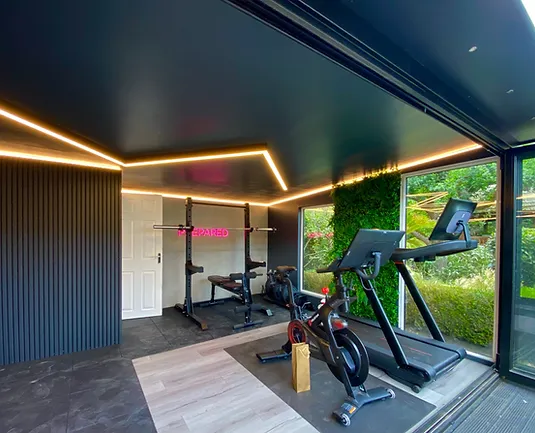 Why chose Kingdom Rooms?
We learnt from the past. Timber buildings of a bygone era 400 years ago elevated timber off the damp, cold ground to help many of them last until today. Our 'No Concrete' base systems do exactly the same.
We have several buildings on display so you can see and learn how different buildings can last longer and outperform others. No professionally edited photos creating a hard-to-follow image.
We normally design your building whilst sitting in your home. We create a full visual of your garden building combined with a fixed price quotation for your peace of mind.
Our buildings have amongst the lowest carbon footprints you will find. Our Made in Britain accreditation supports our environment and economy. From our factory-built structure to recycling most waste materials, we want our impact to be positively visual and life-enhancing.
OK, Kingdom Room buildings are rigidly built but you will also find us flexible with special requests. Our quality may be high but ongoing effort goes into reducing costs and waste and offering very competitive prices.
Case study
The process

Show site
Sited in our garden you see real buildings in use. Resulting in lower cost buildings against a conventional showsite with a paid sales team. See the differences between building methods, how buildings perform differently, variations on lifespan and why costs vary.

Site design visit
We offer a FREE survey, visiting your home to assess the site and your preferences. We can create a 3D design and price your building while we're with you, taking into account your specific needs and your budget. Additionally, we'll gather unique site data in case you decide to order.

Order & survey
After placing your order, we create a detailed job programe that we share with our team. Upon receiving a deposit, we conduct a site survey and communicate the key stages of the build. Stage payments are requested at significant milestones, with the final balance due on completion.

Installation
Construction generally begins 4-6 weeks from the order date, lasting about 2 weeks. We minimise disruption and involve you throughout the process. Your 10-year guarantee commences your satisfcatory completion and your final payment.
Garden room home gym FAQ
Can I have separate rooms in my garden room home gym?
Yes and we can install shelves too to gain more floor space.
Can you attach a garden room gym to the side of my house?
Yes but this is then an extension and needs to adhere to Building Regulations.
Can you design my garden room gym in a custom shape?
Yes. We can create angled buildings to make the most of irregular-shaped gardens.
Can you soundproof my garden room home gym?
Our building incorporates a high degree of sound insulation as standard. We also offer acoustic glass upgrades and can give advice on acoustics internally on hard surfaces.
Can electrics be connected from my house to my garden room home gym?
Yes, via an armour-clad cable.
Can I have a treadmill and other heavy equipment in my garden room home gym?
A treadmill is OK on a standard base but if you are the UK's strongest person, lifting and dropping weights, we need to know so we can build a stronger base in at least that area.
Is a garden room home gym worth it?
The trick is to produce a multi-use space as the value is likely to be determined by a potential buyer. Generally, quality garden buildings can add 10% to a home's value.
How well-insulated are your garden room gyms?
Our walls, floor and roof are SIP panels with insulation up to 20x better than other garden buildings. We also use A+ Rated double glazing
How big does a garden room home gym need to be?
Whatever size you like and other forces allow. You may want a commercial fitness suite or just room for a single Peloton bike.
How high can I build my garden room home gym?
Up to 2.5 meters high without planning permission is needed. Be mindful of garden heights though.
If further than 4 meters from a boundary, you can build higher.

Factory-built
This means minimal waste as fewer materials are used meaning there's less to deliver, resulting in a quick, clean site build.

Insulation at its best
Our walls contain up to 20 times the insulation of other buildings for lower heating bills.

Wood be good
Our refined methods allow us to keep timber use to a minimum. All materials are separated and recycled, with as little as one rubble sack of waste per order.
Buying local
Using British Made and local materials allows us to reduce the carbon footprint of materials whilst supporting our economy.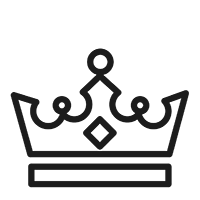 And us…
Our home show centre means your price includes no expensive show site, expensive marketing or sales commission.