Insulated garden log cabins are a fantastic choice to expand your home and add space you can use all year long. Your garden log cabin will be cool in the summer and comfortable through the coldest winter months with excellent insulation. The need of adding insulation in our garden log cabins has increased due to rising utility costs and resource constraints.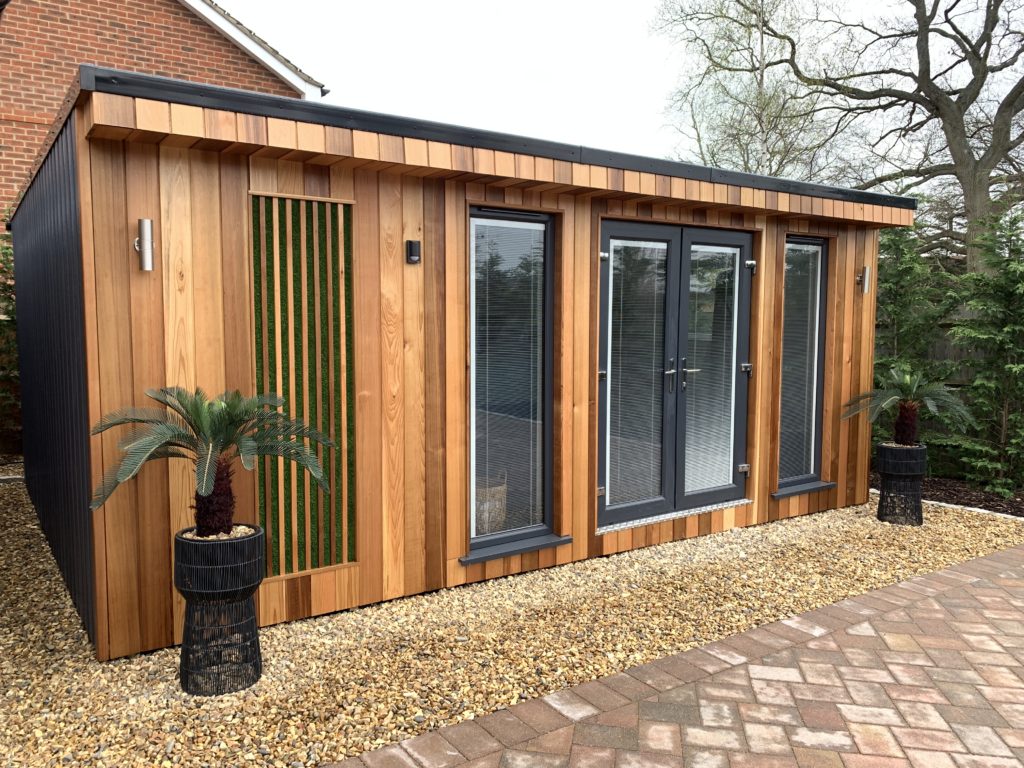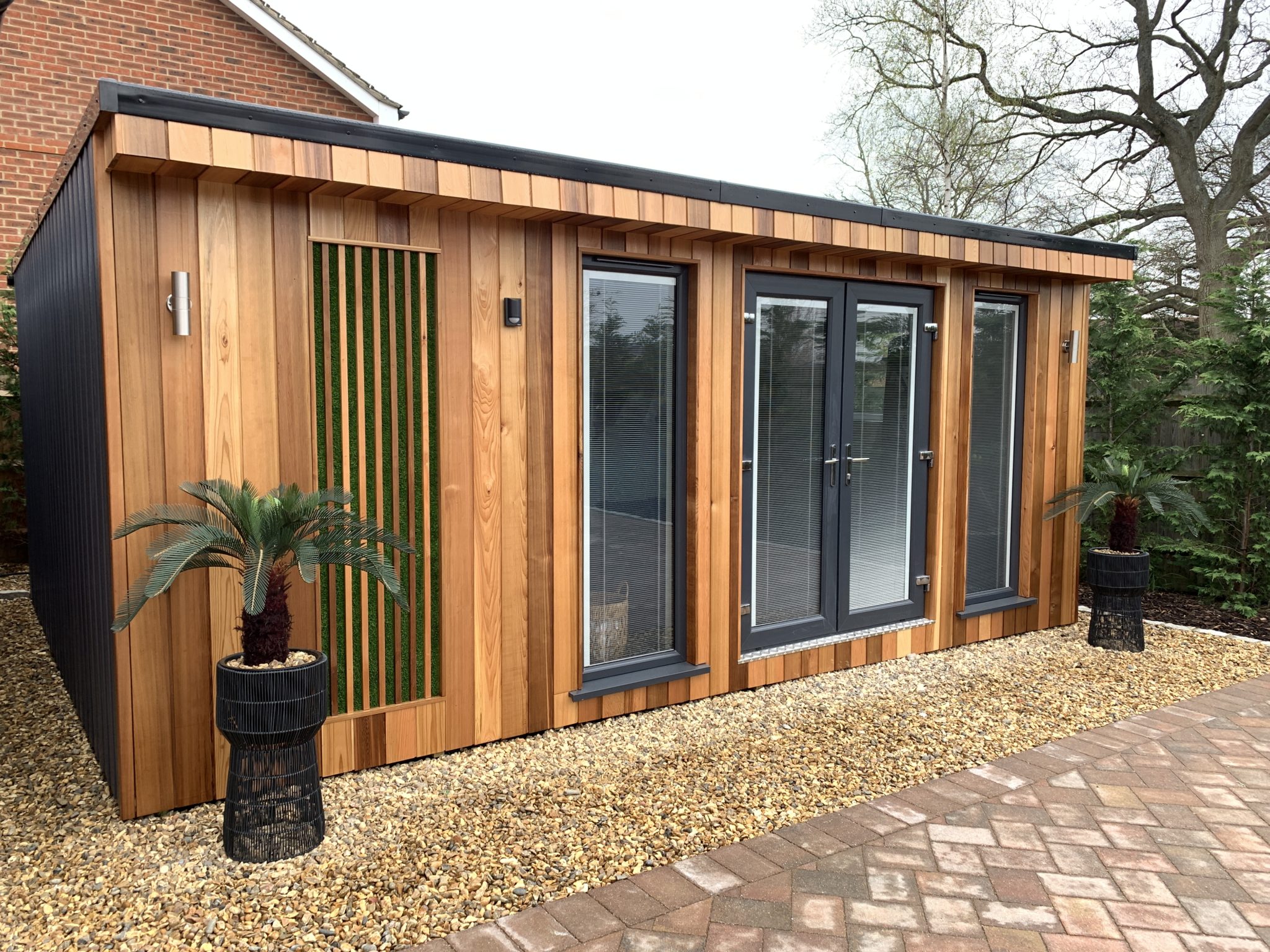 Why have an insulated garden log cabin?
A well-insulated garden log cabin will provide a pleasant atmosphere year-round. Additionally, you could spend less on heating and cooling since you won't need to use your heater or air conditioner as frequently during the year. A garden log cabin that is insulated may be added to your home to provide you with extra living space, a second bedroom, or an insulated outside workspace. An insulated garden log cabin offers a versatile space that can be tailored to match your lifestyle, whether that be a home studio for engaging in your artistic or musical interests or a home office to handle business whenever it has to be done.
The greatest part is that an insulated garden log cabin is built apart from your home, saving you the hassle of getting planning permission as well as putting up with dusty, noisy, and protracted building sites. A Kingdom garden log cabin may often be built in a matter of weeks with little disruption to your everyday life, unlike other home addition choices.
Garden log cabin features and finishings
Original log cabins looked great but suffered from poor insulation where logs unevenly met as they joined. Modern versions are produced by interlocking tongue and groove spruce logs. They affix it onto the exterior of a modern insulated building such as our own SIP-insulated garden buildings.
We offer innovative construction, wall and roof finishes inside. The outside is complimented by cottage-style windows and doors for a perfect garden log cabin. The interior can be finished in timber cladding or plastered walls and ceilings for a modern or traditional building effect. These buildings can also be used as habitable accommodations and granny annexes built within Building Regulations. Log-burning stoves can be installed for the ultimate country-building experience.
Our garden log cabins are built with excellent insulation. They can be adapted at a later date by you or a new homeowner for a whole new life. Our timber logs can be removed and replaced with a choice of materials. You can choose from metals, Redwood Cedar, plastic or composite claddings. A cost-effective solution and great value for money when compared to a new building.
Do not be fooled by the traditional timber building façade. We include modern feature options from Wifi-controlled heating and lighting to CAT6 internet. Our ground screw bases are aligned to the aspect of log cabins. Using no concrete, sand or cement and extending the life of the wood structure above.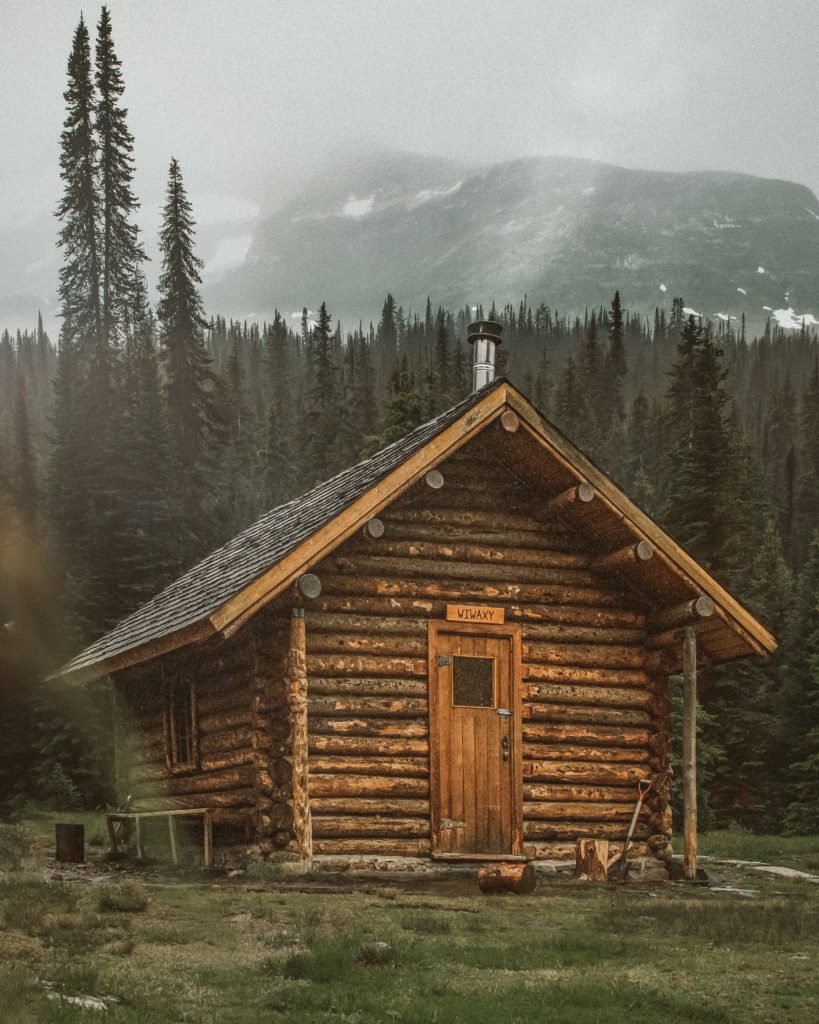 The uses for insulated garden log cabins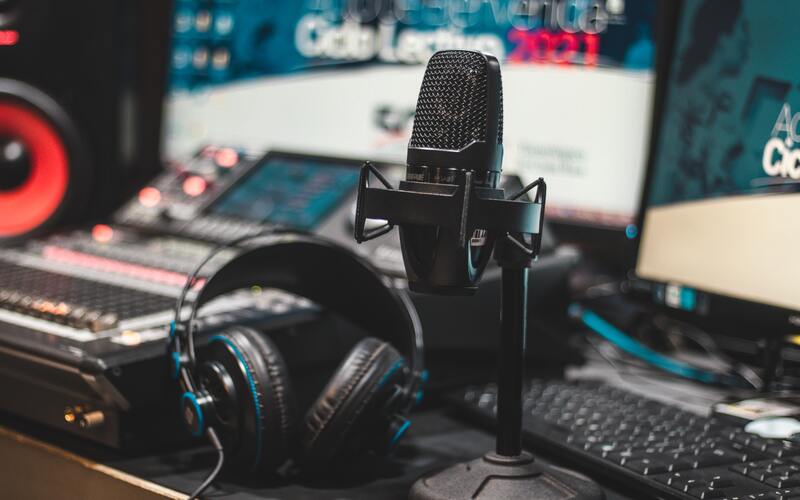 Our fully insulated log cabins create the ideal home studio. Whether you're an artist looking for a quiet place to create or a musician requiring a place to practice at any volume without disturbing your neighbours. For your creative needs, we can design an insulated log cabin.
Whether you're working from home or running your own business, an insulated garden office gives a peaceful and productive space to concentrate, away from home distractions. Today, working from home has several advantages. Increased time for family and leisure activities, excellent workplaces, and cost savings all contribute to better mental and physical health. What could possibly be better than having a private, insulated home office?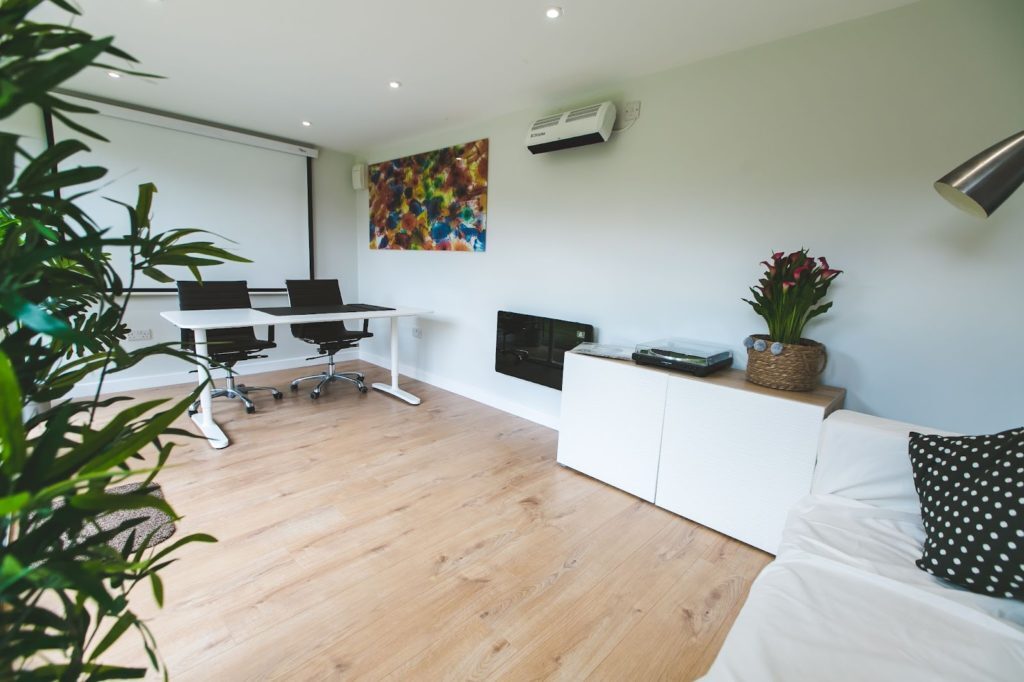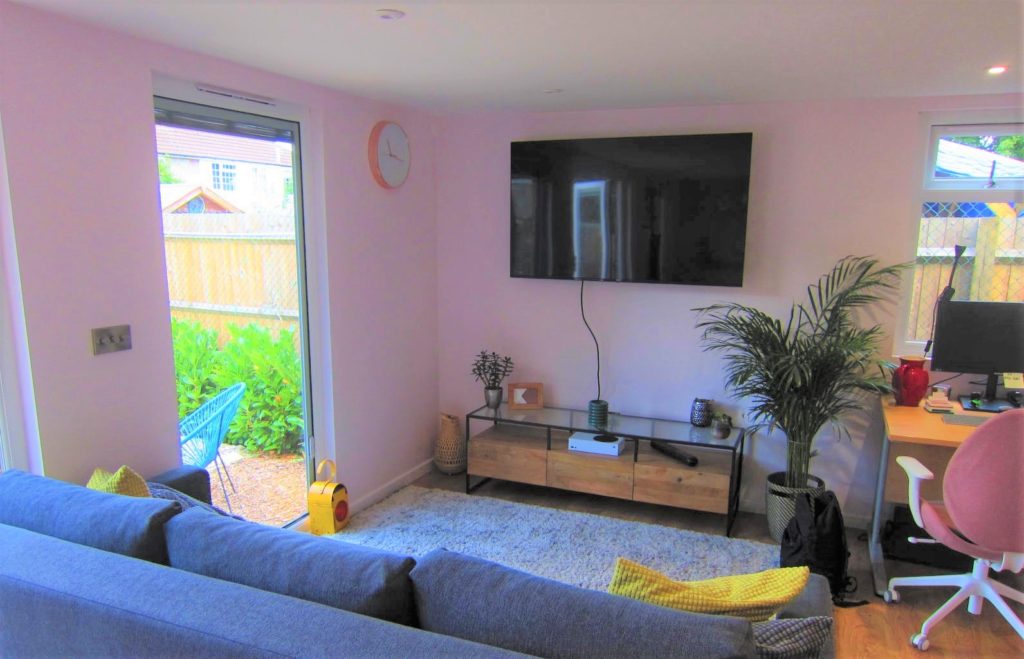 At the end of the day or week, what happens to insulated home offices? Many, as we've discovered, transform into excellent family spaces. Large TV or projector displays offer places for gaming, TV, or even home movies. The superior insulation of our garden structures maintains a suitable temperature in your family area. They also have minimal operating costs. In actuality, heat will be held in after your workday is over.
An insulated granny annexe can be built for less money than moving or constructing a conventional house addition. Given that it is separate from your main property and is insulated to residential standards, a log cabin is a perfect place to host guests, your in-laws or parents, or to rent out a room for additional cash. You will save time and money by not having to find temporary lodging throughout the development phase, and you won't have to worry about dusty or loud construction sites disrupting your daily routine. Please be advised that planning permission may be required if you want to live or sleep in your insulated log cabin.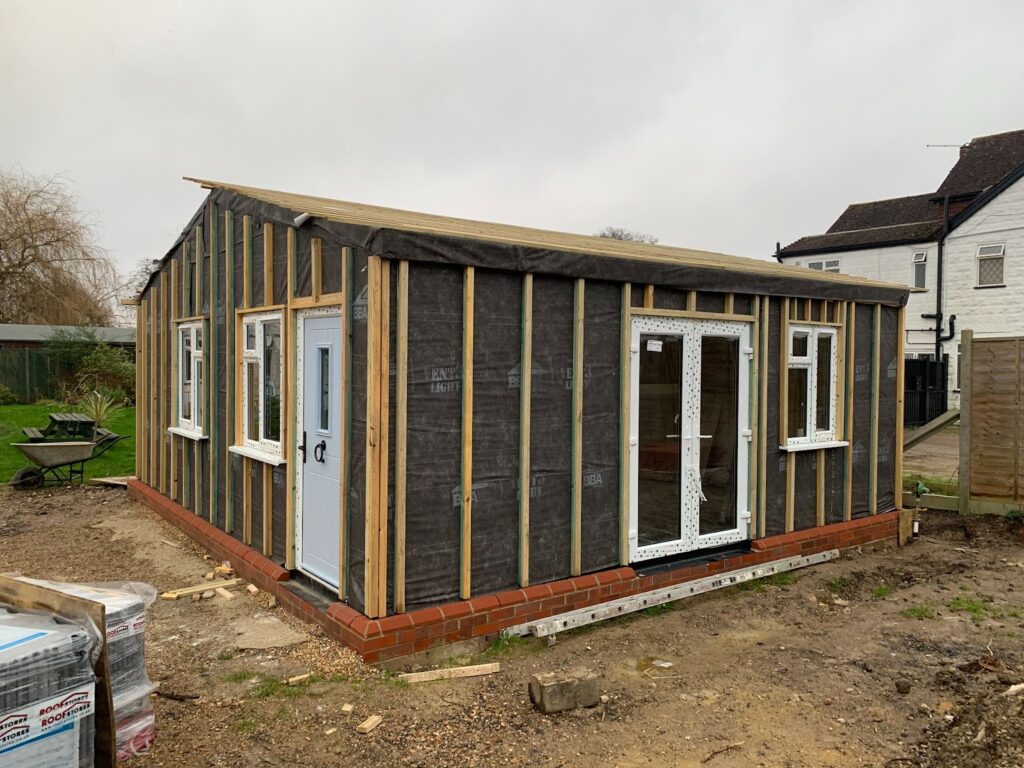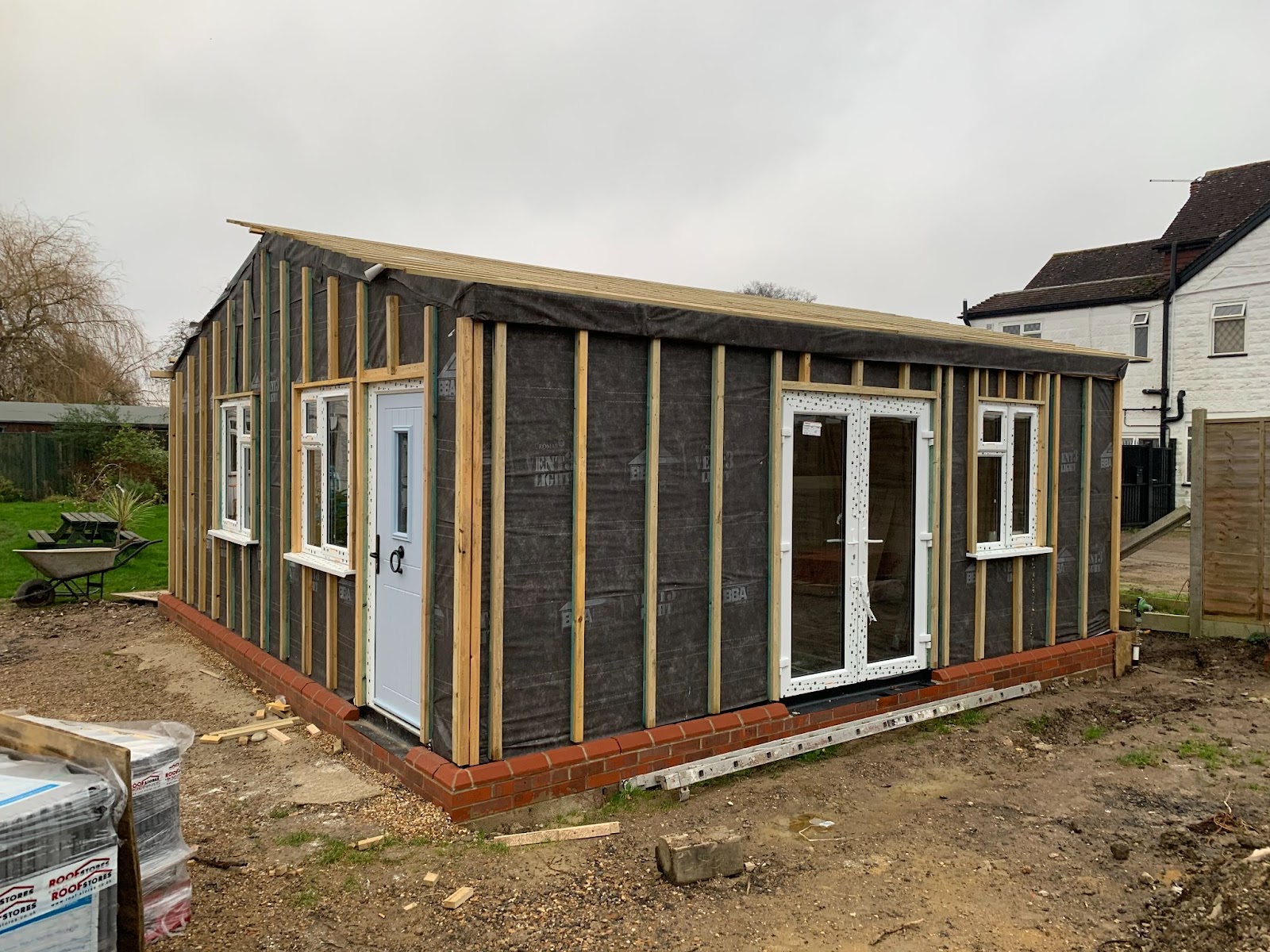 The process

Show site
Sited in our garden you see real buildings in use. Resulting in lower cost buildings against a conventional showsite with a paid sales team. See the differences between building methods, how buildings perform differently, variations on lifespan and why costs vary.

Site design visit
We offer a FREE survey, visiting your home to assess the site and your preferences. We can create a 3D design and price your building while we're with you, taking into account your specific needs and your budget. Additionally, we'll gather unique site data in case you decide to order.

Order & survey
After placing your order, we create a detailed job programe that we share with our team. Upon receiving a deposit, we conduct a site survey and communicate the key stages of the build. Stage payments are requested at significant milestones, with the final balance due on completion.

Installation
Construction generally begins 4-6 weeks from the order date, lasting about 2 weeks. We minimise disruption and involve you throughout the process. Your 10-year guarantee commences your satisfcatory completion and your final payment.
Insulated Garden Log Cabins FAQ
What types of cladding could be used externally?
We offer a dried and treated Thermowood for extended life along with a premium Redwood Cedar (which looks great with two coats of Danish oil). Composite and recyclable plastic claddings also provide a beautiful finish with wipe-clean maintenance. We avoid low-cost options such as Spruce which have lesser life-enhancing treatments, and higher moisture and sap content as stains and paints are more likely to need regular maintenance.
Do I need permission to put a log cabin in my garden?
Whilst most of the time this is a no, a log cabin falls into the same planning permission requirements as a garden building.
Can I live in a log cabin in my garden?
Any building that you live in or is served by a water supply and waste pipe outlet will need to be built to building regulations. You may also need planning permission too.
Do log cabins require a lot of maintenance?
Timber buildings do require a degree of maintenance, mainly through applying paints or stains externally. The type of timber that you choose will make a huge difference with cheaper timbers requiring annual treatments with a short life and better timbers lasting much longer with less input from you.
What is the lifespan of a garden log cabin?
The build method and type of base determine this. We like ground screw bases as they suspend timber structures above the damp ground, ensuring much longer lives than if sat on a damp, non-insulated concrete base.
Do log cabins get damp?
Damp is humidity meeting cold. A well-insulated building combined with background ventilation such as windows and trickle ventilators help avoid internal dampness. Our ground screw bases hold the structure above damp ground which causes rot.
Do garden log cabins stay warm in winter?
That depends on how well it is built and how much you heat it. All buildings can stay warm but a well-insulated building, windows and doors will hold heat meaning a considerably lower heating use and bill.

Factory-built
This means minimal waste as fewer materials are used meaning there's less to deliver, resulting in a quick, clean site build.

Insulation at its best
Our walls contain up to 20 times the insulation of other buildings for lower heating bills.

Wood be good
Our refined methods allow us to keep timber use to a minimum. All materials are separated and recycled, with as little as one rubble sack of waste per order.
Buying local
Using British Made and local materials allows us to reduce the carbon footprint of materials whilst supporting our economy.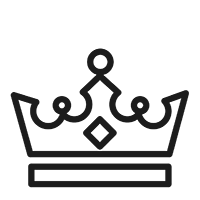 And us…
Our home show centre means your price includes no expensive show site, expensive marketing or sales commission.