Our garden building as a luxury summer house is a modern take on the traditional summer house. With super insulation, it can be used all year round for whatever your intended use.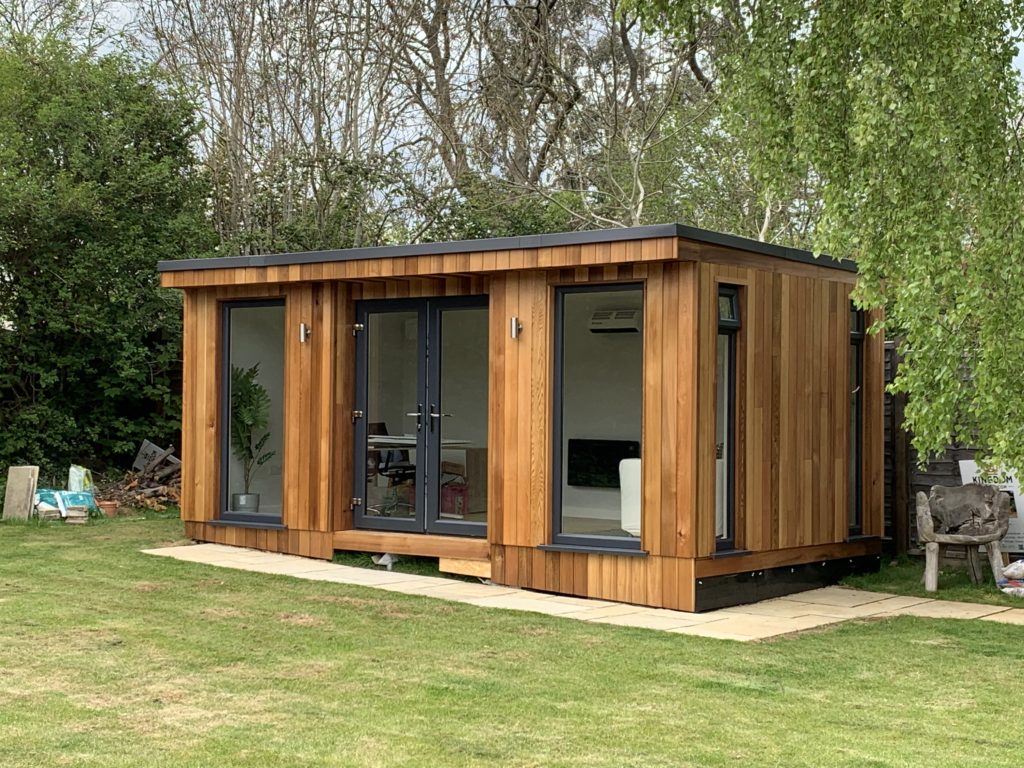 Why chose a Kingdom Rooms luxury summer house?
Traditional summer houses, compared to a Kingdom Rooms luxury summer house can be poorly insulated with flimsy walls, little insulation and single glazing.
They provide very basic shelter on a typical British summer day. We feel this offers poor value for money, especially as many are built directly onto cold damp ground. This can quickly introduce rot and poor and uncomfortable shelter at the times of the English year we need it most.
Our take on a luxury summer house would be a building that provides a comfortable year-round environment. They can be used for a multitude of purposes, then a spectacular open summer space.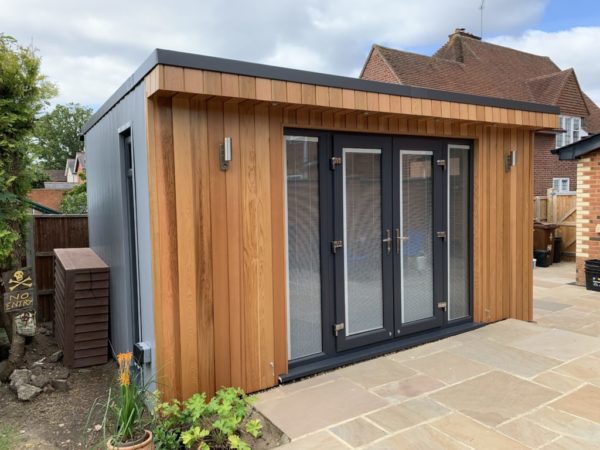 Features of our luxury summer house
Bi-fold doors are the perfect complement to a modern luxury summerhouse. They open the building into the garden and welcome friends and guests alike. Our doors are all available with ultra-low threshold options allowing the easy wheeling out of furniture and BBQs.
Double-opening French doors in PVC or aluminium are available with Georgian, leaded and astragal finishes. Ideally for creating a transforming cottage effect for our luxury summer houses and posh sheds.
Our roofs are substantial with much insulation and internally hidden supports. So we install load-bearing supports directly over our large doors to ensure trouble-free use.
Enjoying that special summer day relies on the time gained from choosing lower-maintenance products. Composite and PVC claddings, long-life Redwood Cedarwood, EDPM rubber roof coverings. You need a building that is elevated off of the damp ground. This helps to reduce maintenance needs to a minimum. Modern external cladding options add a contemporary edge.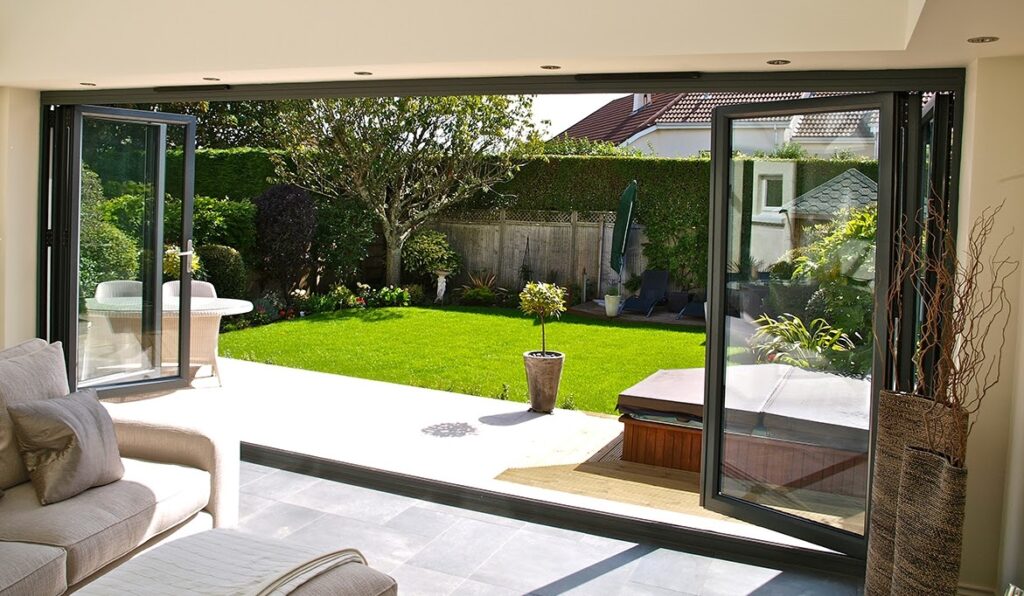 Why chose Kingdom Rooms?
We learnt from the past. Timber buildings of a bygone era 400 years ago elevated timber off the damp, cold ground to help many of them last until today. Our 'No Concrete' base systems do exactly the same.
We have several buildings on display so you can see and learn how different buildings can last longer and outperform others. No professionally edited photos creating a hard-to-follow image.
We normally design your building whilst sitting in your home. We create a full visual of your garden building combined with a fixed price quotation for your peace of mind.
Our buildings have amongst the lowest carbon footprints you will find. Our Made in Britain accreditation supports our environment and economy. From our factory-built structure to recycling most waste materials, we want our impact to be positively visual and life-enhancing.
OK, Kingdom Room buildings are rigidly built but you will also find us flexible with special requests. Our quality may be high but ongoing effort goes into reducing costs and waste and offering very competitive prices.
The process

Show site
It is highly recommended by our clients to visit our show site. Real buildings beat web images, and we can show you all of your options. You also see the differences between building methods, how buildings perform differently, variations on lifespan and why costs vary.

Site design visit
If you're interested, we can visit your home to assess the site based on your preferences. This allows us to design and price your building while we're with you, taking into account your specific needs and budget. Additionally, we'll gather unique site data if you decide to move forward.

Order & survey
After placing your order, we provide a detailed fixed-price quotation, that we share with our team. Upon receiving a deposit, we conduct a site survey and communicate the key stages of the build. Stage payments are requested at significant milestones, with the final balance due at completion.

Installation
We deliver materials in advance for a prompt start. Construction generally begins 4-6 weeks from the order date, lasting about 2 weeks. We minimize disruption and involve you throughout the process. Your 10-year guarantee details are released for registration upon final payment.
How big can my luxury summer house be?
Up to 30 square meters of floor area usually does not need permission. Up to half the area of a garden.
Does the use of my garden building matter?
If you want an occasional-use structure, then a lower-cost and lesser insulated building may suffice. But if you plan to use it year-round, then invest in a summer house with good insulation and low-cost appliances as both will help recoup your investment. If noisy inside or need to be very quiet inside, then consider upgrading the acoustic insulation. We recommend a physical Cat 6 internet supply over less reliable WiFi.
Where can I put my luxury summer house?
Most buildings less than 2.5m high can be within 2 meters of a boundary without considering planning. As well as 'kerb appeal' of the front facade, consider the view out and how the sun can affect glare and heat ingress inside.
How long should a luxury summer house last?
Non-treated and cheap timber structures with poor insulation sat directly upon non-insulated concrete can attract dampness that will start rot and reduce a building's useful life to a few years. Quality insulated and ventilated structures can last as long as a brick-built house. Like the Elizabethans, Georgians and Victorians, many of their good designs and quality timber-framed buildings still exist today.
Is air con for my luxury summer house a good idea?
Air conditioning can be expensive, so the building design can help avoid the need. Solar-rejecting glasses can help reduce heat ingress, as can the position of the building and any large windows or doors. Install a spare spur just in case as you can retrofit air conditioning if needed. Check out its efficiency and consider a unit that provides heat also as these can reduce initial cost and running costs.
What does a luxury summer house cost?
Now that's a question with no simple answer. Simple being key. A low-cost building with less insulation and features will cost from £3000 but will not last as long as a high-quality building. Installation fees will vary depending on attention to detail and the type of base you require, as will internal and external finishing details. We offer one timber that costs twice as much as a cheap version and we have another that costs five times as much. With so many variations, we recommend that you budget between £1000 and £2000 per square meter of the base. Bi-fold doors, roof lights and interior fittings can push this higher.
Can you shape a luxury summer house?
L and U shapes are quite easy to produce, as is a triangle-type shape to utilise that otherwise wasted area of the garden.
Can I install Bi-fold doors in a luxury summer house?
You can but we do advise that structural support be installed directly over the top of your doors. Without it structures such as stud-frame buildings could see the roof sag and cause issues with the opening and closing of doors.

Factory-built
This means minimal waste as fewer materials are used meaning there's less to deliver, resulting in a quick, clean site build.

Insulation at its best
Our walls contain up to 20 times the insulation of other buildings for lower heating bills.

Wood be good
Our refined methods allow us to keep timber use to a minimum. All materials are separated and recycled, with as little as one rubble sack of waste per order.
Buying local
Using British Made and local materials allows us to reduce the carbon footprint of materials whilst supporting our economy.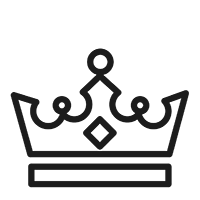 And us…
Our home show centre means your price includes no expensive show site, expensive marketing or sales commission.