Home working now offers multiple benefits. From cost savings to quality workspaces, then increased time for family and leisure, leading to improved mental and physical health.
So what could be better than having your own insulated garden room office?
Imagine leaving work on time and the twenty-second commute home. With that barrier, helping you maintain the home and work-life balance we all seek.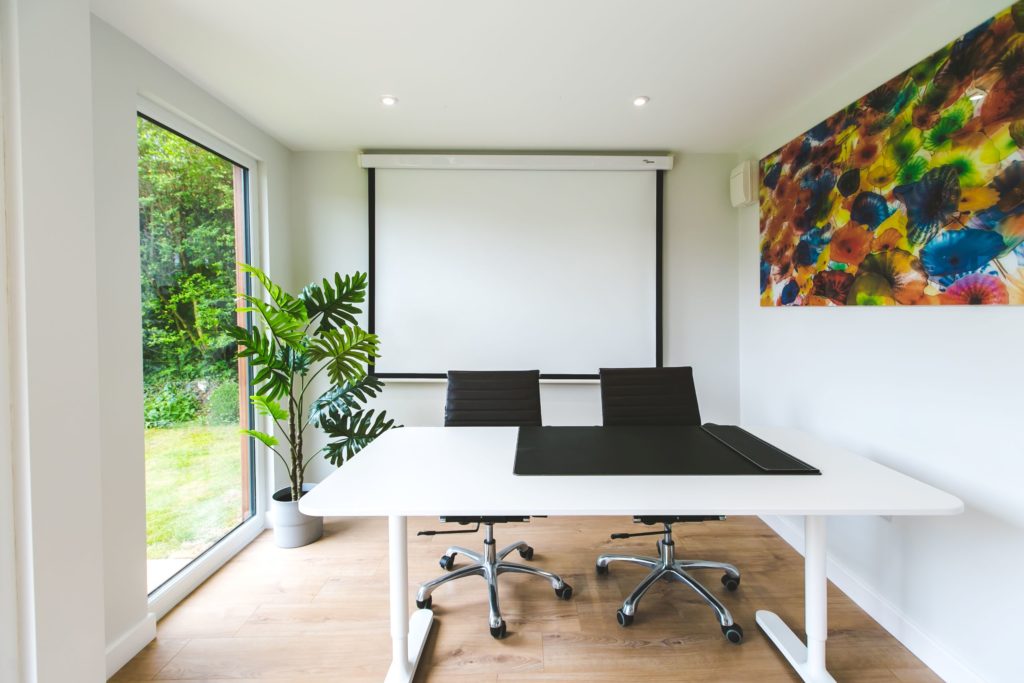 Kingdom Rooms include super insulation alongside A+ rated double glazed safety glass and internal heat rejection blinds, providing an easy-to-control temperature inside and at an unbelievably low running cost.
We offer an electrical connection to your garden room office (Building Regulation compliant) along with a CAT 6 connection option. This cable provides a more reliable physical internet connection than a Wifi service does.
Both equipment and data have a value. We use insurance-approved locking for all windows and doors and our CAT6 connection can help create an alarm zone to protect your business.
Our garden room offices are individually built around you. Whether one or two desks, a meeting table, a sofa or storage, we create the optimum space for you.
Benefits of a garden room office
Increased productivity
Our stand-alone garden buildings offer peace and privacy to create the perfect home-working environment, away from home distractions.
Ditch the commute
When working from home your commute is reduced to as far as the end of your garden! This will save you time and money compared the commuting to the office, not to mention adding value to your home!
Increased free time
By reducing the commute to next to nothing, you'll have more time to spend doing the things you love. Whether that's a hobby or spending time with family.
Work/home divide
A garden building as a home office offers you your own space to work in rather than at the dining table or in your bedroom. This lets you switch off at the end of the day and focus on your home life.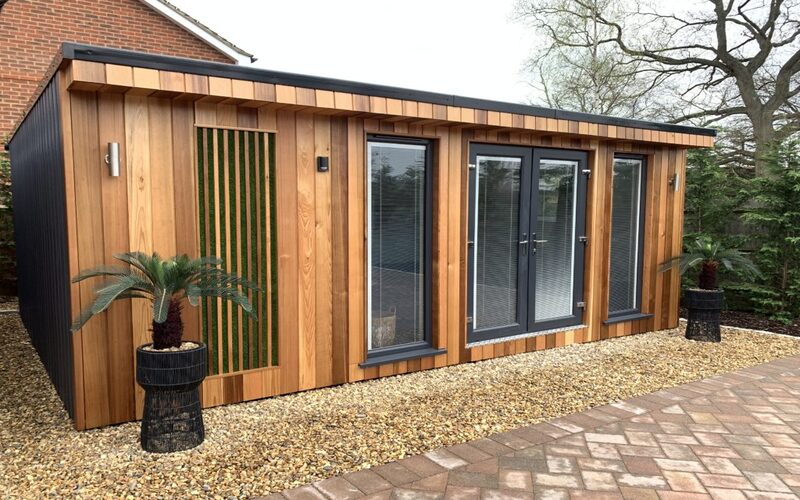 Our Designer can guide you with helpful tips on:
Maximising floor and work space plus lighting for online meetings through design.
Minimising running costs through reduced heating and lighting costs.
Best value in design and IT options.
Tax saving tips.
Flexible additional leisure uses for the building.
Design and landscaping advice.
Specific advice on acoustics and internal space configuration.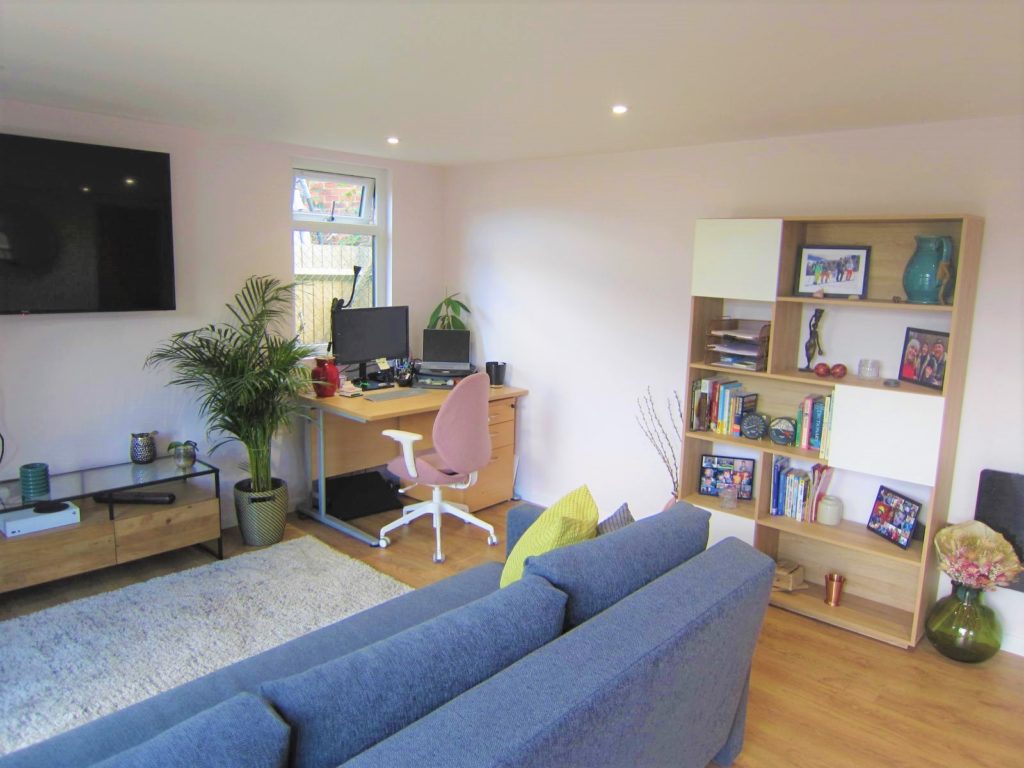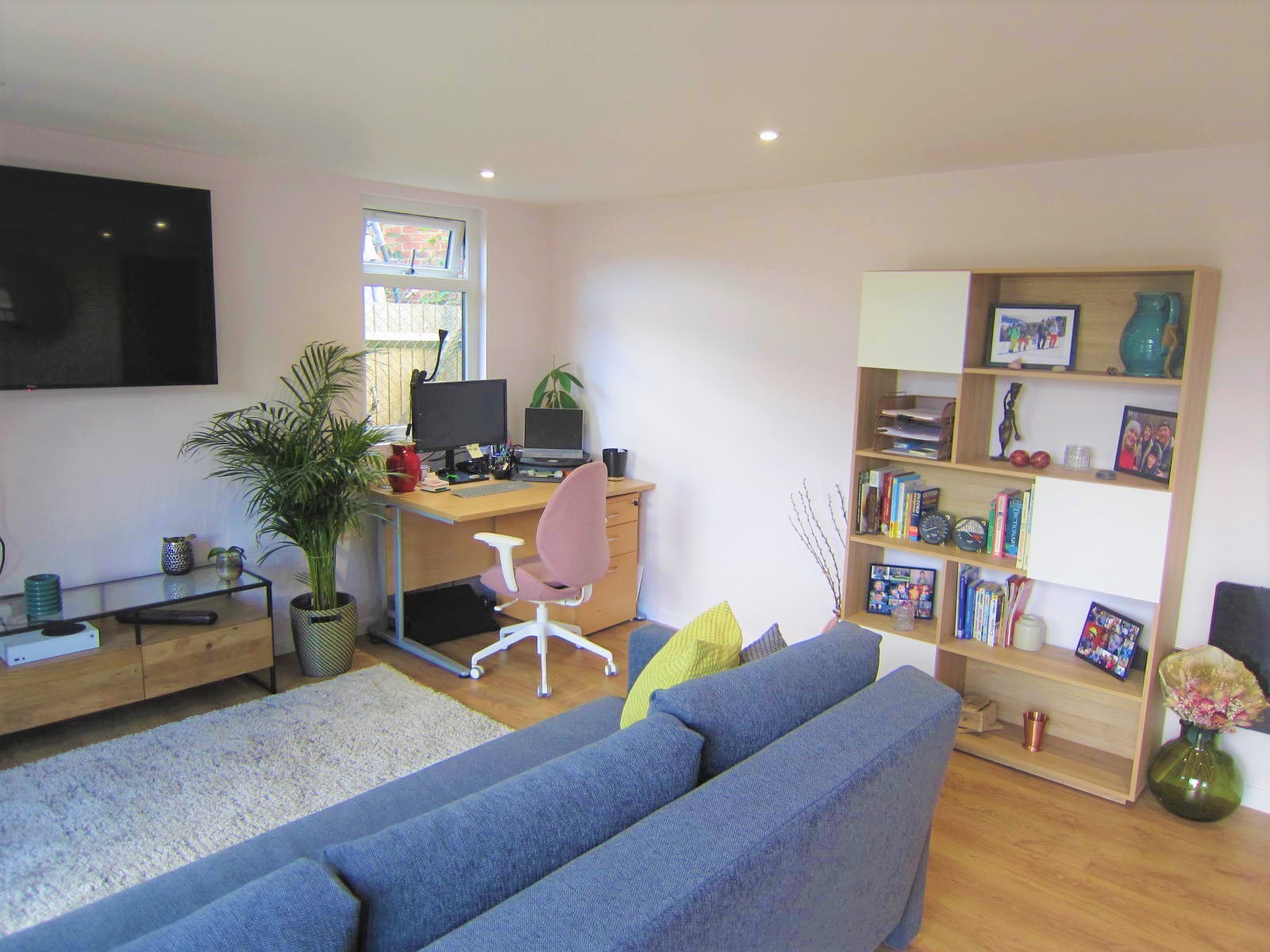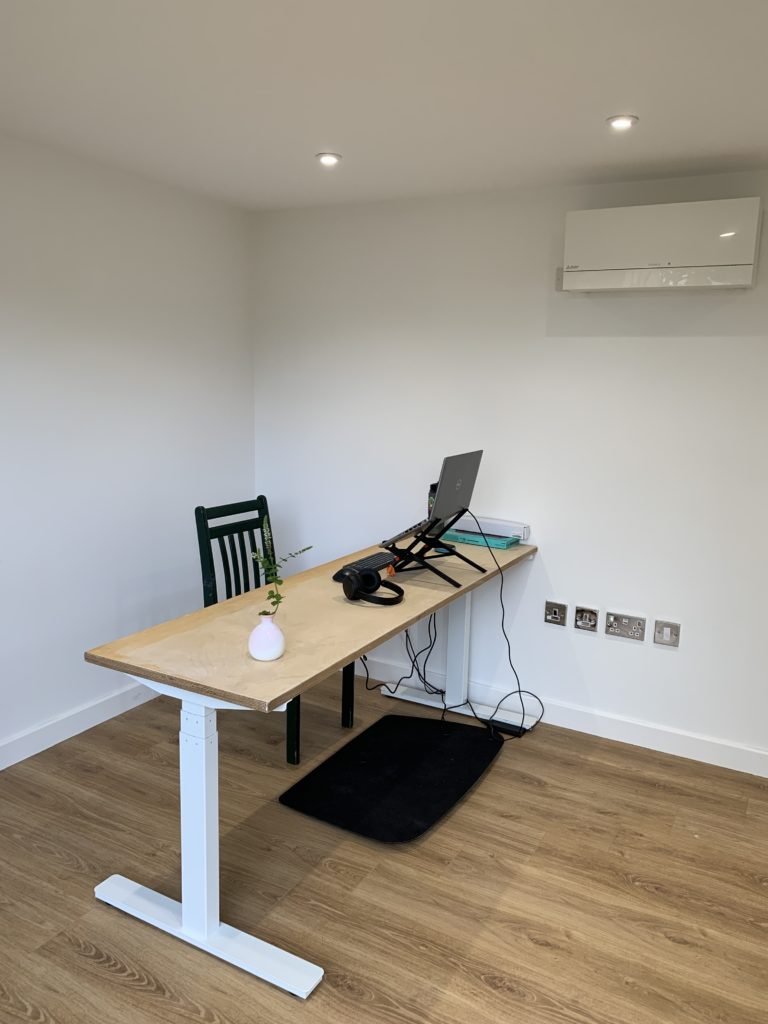 Keeping current and future costs down
The cost savings of home working can be enormous. Reduced commuting can save thousands of pounds in fuel, tickets and running costs annually whilst reducing your heating at home as you work from a well-insulated garden room could save you money too.
The BBC reports that heating bills are set to increase further in 2023. Naturally, this makes the savings from a garden building look even more attractive.
Reduce heating in your home, turn lights off and use a well-insulated garden room. The annual savings could be substantial.
Tip. Inform your insurer that you have added a garden building to your home.
Why chose Kingdom Rooms?
We learnt from the past. Timber buildings of a bygone era 400 years ago elevated timber off the damp, cold ground to help many of them last until today. Our 'No Concrete' base systems do exactly the same.
We have several buildings on display so you can see and learn how different buildings can last longer and outperform others. No professionally edited photos creating a hard-to-follow image.
We normally design your building whilst sitting in your home. We create a full visual of your garden building combined with a fixed price quotation for your peace of mind.
Our buildings have amongst the lowest carbon footprints you will find. Our Made in Britain accreditation supports our environment and economy. From our factory-built structure to recycling most waste materials, we want our impact to be positively visual and life-enhancing.
OK, Kingdom Room buildings are rigidly built but you will also find us flexible with special requests. Our quality may be high but ongoing effort goes into reducing costs and waste and offering very competitive prices.
Case Study
The process

Show site
It is highly recommended by our clients to visit our show site. Real buildings beat web images, and we can show you all of your options. You also see the differences between building methods, how buildings perform differently, variations on lifespan and why costs vary.

Site design visit
If you're interested, we can visit your home to assess the site based on your preferences. This allows us to design and price your building while we're with you, taking into account your specific needs and budget. Additionally, we'll gather unique site data if you decide to move forward.

Order & survey
After placing your order, we provide a detailed fixed-price quotation, that we share with our team. Upon receiving a deposit, we conduct a site survey and communicate the key stages of the build. Stage payments are requested at significant milestones, with the final balance due at completion.

Installation
We deliver materials in advance for a prompt start. Construction generally begins 4-6 weeks from the order date, lasting about 2 weeks. We minimize disruption and involve you throughout the process. Your 10-year guarantee details are released for registration upon final payment.
Garden room office FAQ
Do you need planning permission for a garden room office?
In most cases, no planning is required. As long as less than 2.5m high and less than half your garden area. When not listed or in a conservation area.
What are popular options for doors and windows?
PVC is more popular than aluminium as its lower cost and better thermal insulation. Anthracite Grey and White colours are the most popular of our 40 colours. Internal blinds are popular too as they reflect direct heat, helping to avoid the need for expensive air conditioning.
Are garden room offices insulated?
Yes, using a house building product called a SIP (Structurally insulated panel) with A+ Rated double glazing.
How much do garden room offices cost?
A garden office could cost between £10,000 and £50,000 depending on the structure and specification you choose. Be cautious of internet prices as many are artificially low to gain your attention with 'add on' options such as a base, electric and installation quickly pushing prices up. A garden building will vary from a DIY shed to a house and the price differences between the good, the bad and the ugly varying too.

Factory-built
This means minimal waste as fewer materials are used meaning there's less to deliver, resulting in a quick, clean site build.

Insulation at its best
Our walls contain up to 20 times the insulation of other buildings for lower heating bills.

Wood be good
Our refined methods allow us to keep timber use to a minimum. All materials are separated and recycled, with as little as one rubble sack of waste per order.
Buying local
Using British Made and local materials allows us to reduce the carbon footprint of materials whilst supporting our economy.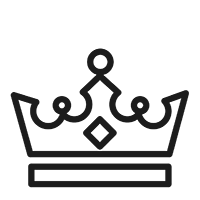 And us…
Our home show centre means your price includes no expensive show site, expensive marketing or sales commission.