Our fully insulated garden buildings make for the perfect garden studio. Whether you're a musician needing a space to practice at any volume you like without disrupting your neighbours or an artist needing a creative space to escape to. We can design a garden building to suit your creative needs.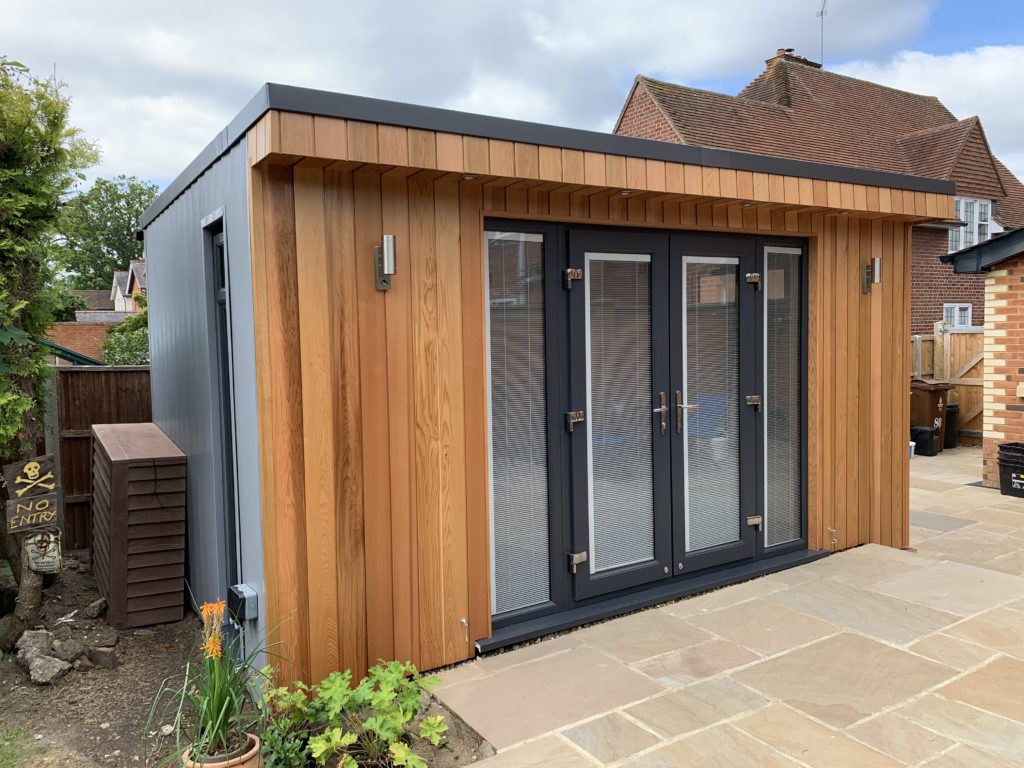 A garden studio could describe so many uses. Having built a recording studio for a musician recently, brought back memories of working for the BBC, Central TV and an A-list recording artist. Using differing materials we learnt how to reduce noise.
Dance studios can benefit from our super supported flooring whilst fitness studios encompass numerous keep-fit pursuits including gym, pilates, yoga and weights.
"One vision for me would be the likes of Van Gogh or Turner in their studios, busy creating images to share and make our world a brighter place. I guess our understanding of the word studio is a space to relax, invest, create or work, you may even have other uses." Andy says.
Mandy has spent time in art studios honing her skills whilst Andy's pottery skills resulted in a funky gnome in a pottery studio.
Acoustic Insulation
Acoustic insulation benefits many uses of a garden studio. You may be a broadcaster or participate in regular zoom meetings. In this instance keeping outdoor noise outside could be crucial. Hobbies such as drumming and a business such as teaching guitar could require that you keep noise in. Our walls contain a sandwich filling of noise-absorbing insulation which works both ways.
You may then wish to consider your glass options. Kingdom Acoustic glass reduces noise transfer through our already efficient double glazing by as much as another 13 dB. With solid walls inside, reverberation (the vibrating pulse of sound waves) can also affect noise levels inside. Our resident expert Andy can advise on the best and often, most cost-effective options for your use. He has extensive experience in providing acoustic options for TV and music recording studios.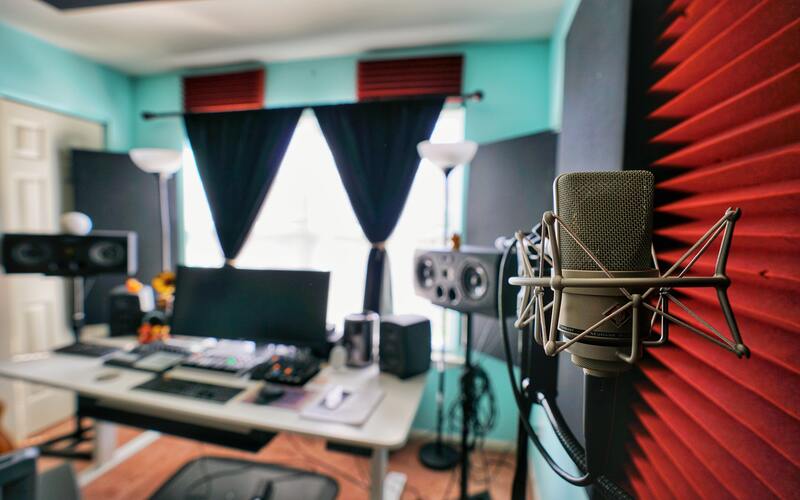 Features of a Garden Studio
Raw finished walls give a cost saving against our popular plastered walls and are ideal for those heavy-knock pursuits and hobbies.
Daylight plays a major part in artwork. Each garden room is individually designed, allow as much light ingress as you wish through as many or few windows and doors as you like. Our internal blinds help with shading, light reduction and privacy.
Our lighting options are flexible with standard spotlights switchable from bright to soft lighting along with dimmer switches.
Painted walls and sturdy floor coverings are ideal for even the messiest of your home hobbies or business needs.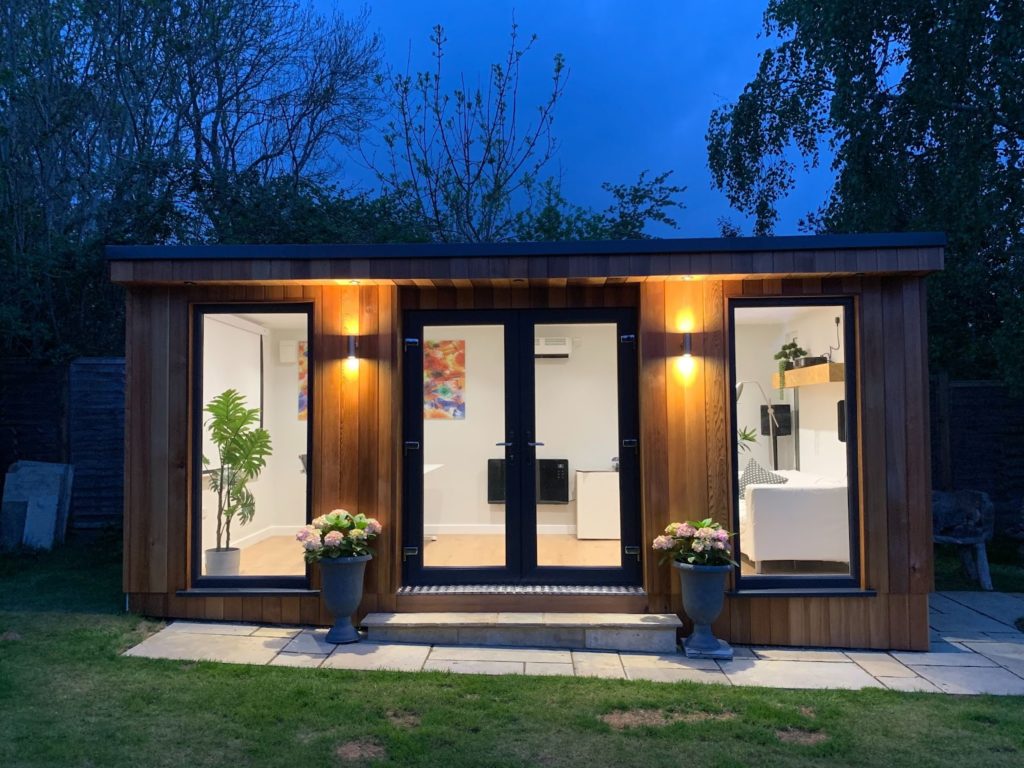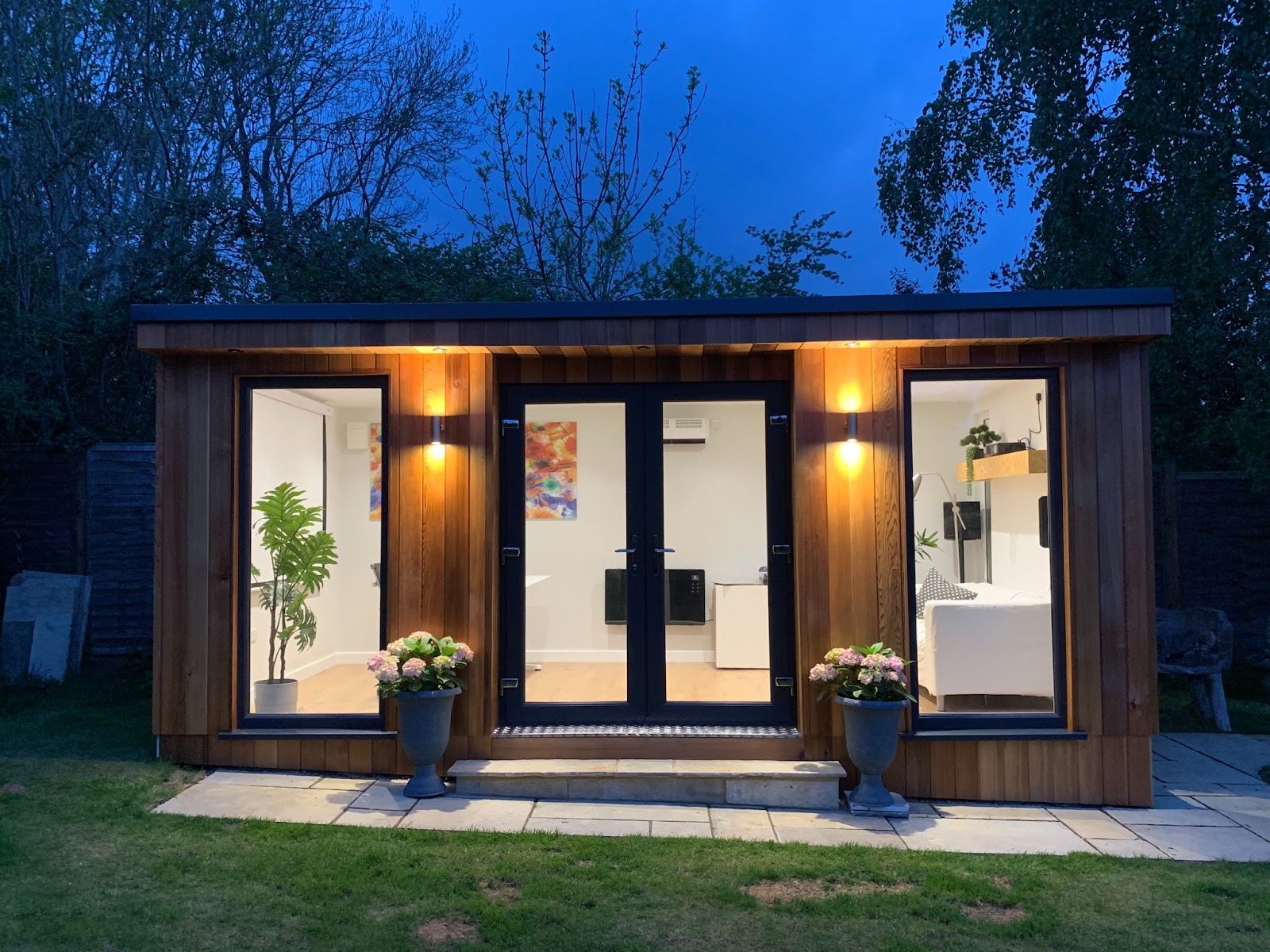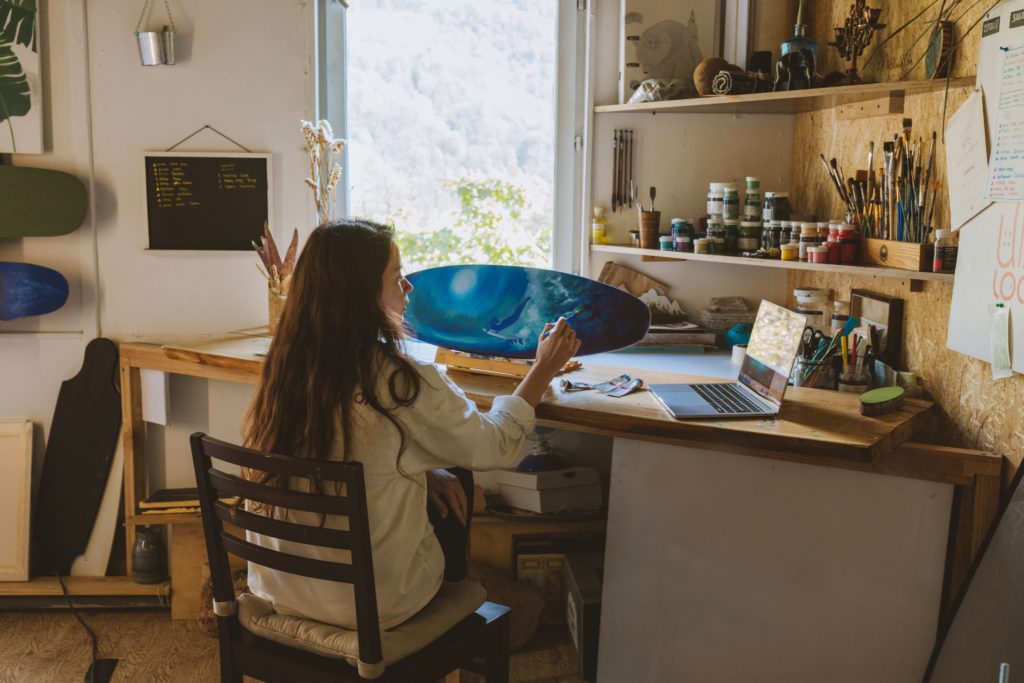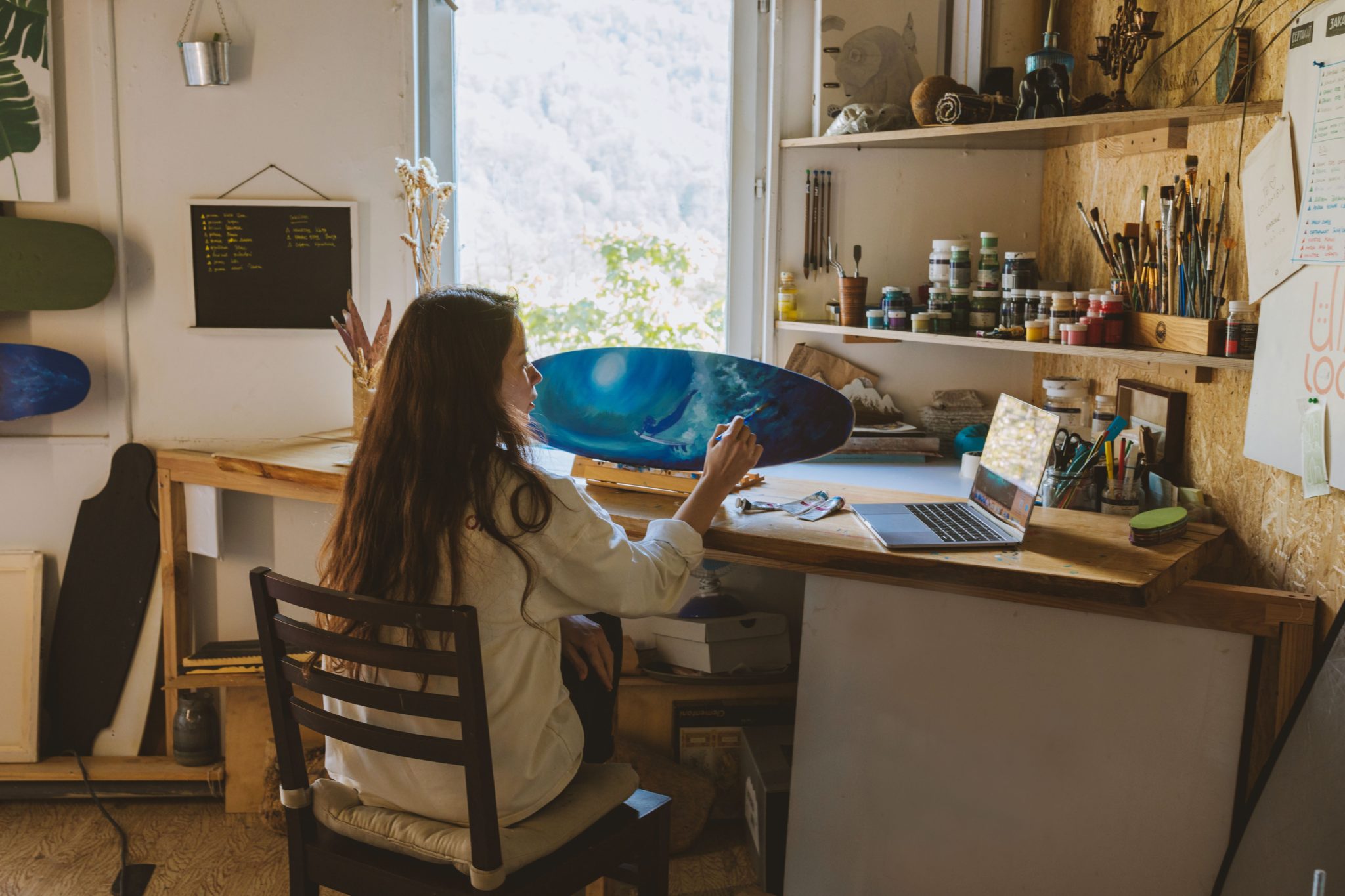 Our Garden Studios are Ideal for:
Aspiring musicians and professional musicians
Artists
DJs and producers
Music teachers
One thing every studio has in common is the need to be a creative environment. We believe that our garden buildings do just that, whether for your inspiration or a visiting guest or client.
It feels like we are presented with enquiries every week for an ever-increasing new number of uses for our garden buildings. Whatever you have in mind, we would love to hear from you. Our extensive history may provide fresh ideas that would suit your project.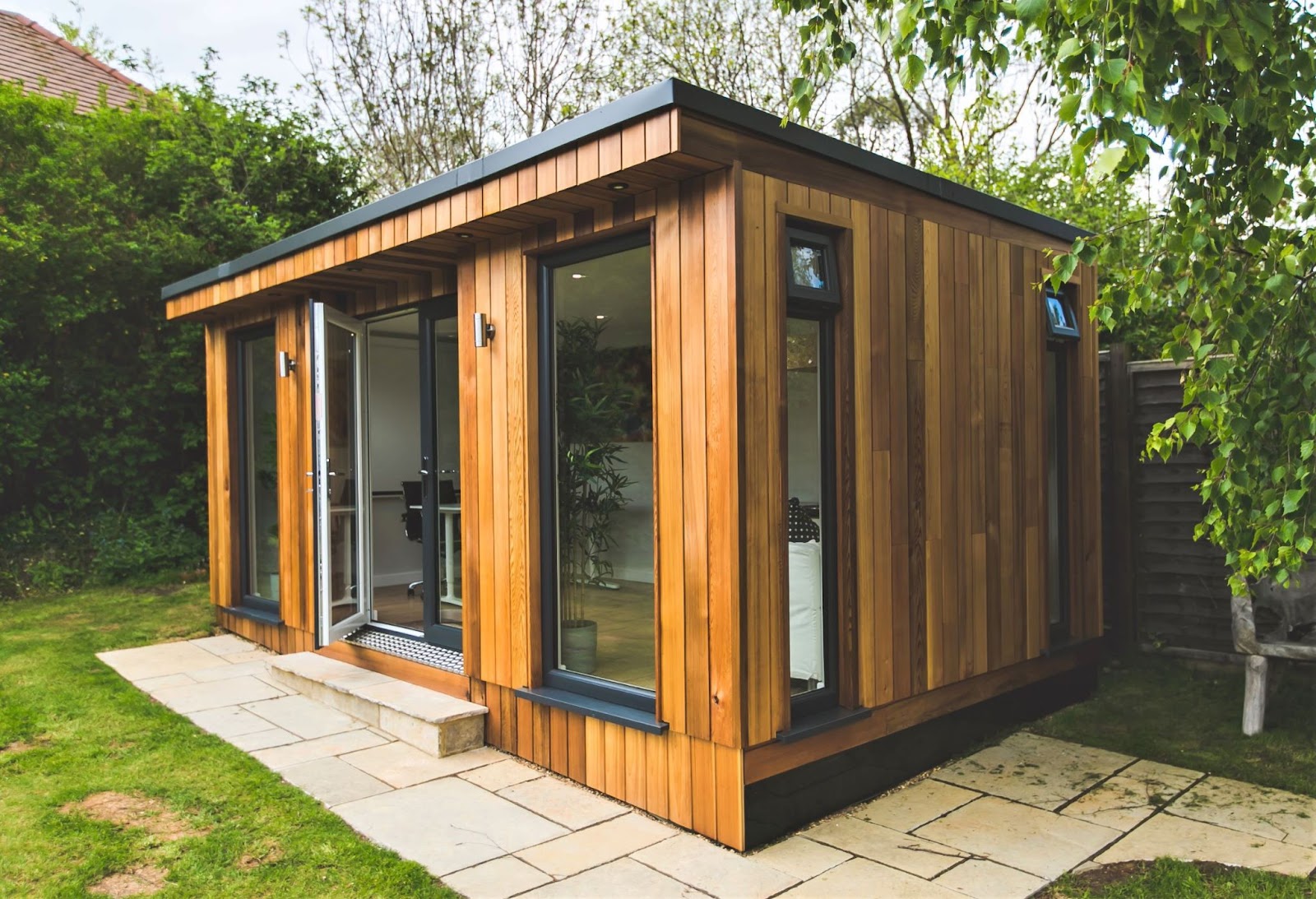 Book an appointment to visit our show centre to see the quality of our garden rooms for yourself!
Our customers state 'The visit to the show centre was invaluable' because they can see how Kingdom Rooms buildings differ from others.
8 Armour Hill, Tilehurst, Reading, RG31 6JS
Fully insulated for year-round use
A+ Rated safety double glazing throughout
No-pressure quotations
Adds value to your home
Minimal waste
Customised buildings to suit your outdoor space
Why chose Kingdom Rooms?
We learnt from the past. Timber buildings of a bygone era 400 years ago elevated timber off the damp, cold ground to help many of them last until today. Our 'No Concrete' base systems do exactly the same.
We have several buildings on display so you can see and learn how different buildings can last longer and outperform others. No professionally edited photos creating a hard-to-follow image.
We normally design your building whilst sitting in your home. We create a full visual of your garden building combined with a fixed price quotation for your peace of mind.
Our buildings have amongst the lowest carbon footprints you will find. Our Made in Britain accreditation supports our environment and economy. From our factory-built structure to recycling most waste materials, we want our impact to be positively visual and life-enhancing.
OK, Kingdom Room buildings are rigidly built but you will also find us flexible with special requests. Our quality may be high but ongoing effort goes into reducing costs and waste and offering very competitive prices.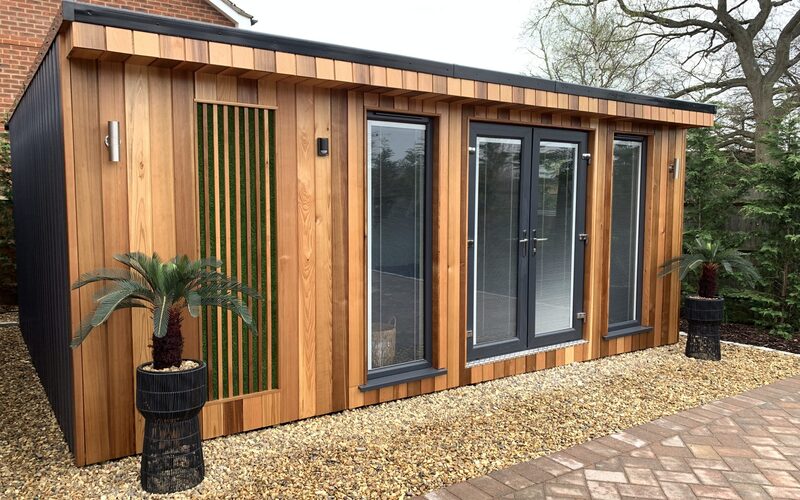 The process

Show site
It is highly recommended by our clients to visit our show site. Real buildings beat web images, and we can show you all of your options. You also see the differences between building methods, how buildings perform differently, variations on lifespan and why costs vary.

Site design visit
If you're interested, we can visit your home to assess the site based on your preferences. This allows us to design and price your building while we're with you, taking into account your specific needs and budget. Additionally, we'll gather unique site data if you decide to move forward.

Order & survey
After placing your order, we provide a detailed fixed-price quotation, that we share with our team. Upon receiving a deposit, we conduct a site survey and communicate the key stages of the build. Stage payments are requested at significant milestones, with the final balance due at completion.

Installation
We deliver materials in advance for a prompt start. Construction generally begins 4-6 weeks from the order date, lasting about 2 weeks. We minimize disruption and involve you throughout the process. Your 10-year guarantee details are released for registration upon final payment.
Garden studio FAQ
Can you soundproof a garden studio?
We use Polyurethane insulation inside our walls, floor and roof as standard which gives excellent sound insulation. We also offer upgrades from double glazing to acoustic glass.
Does a garden studio add value to a house?
If a garden studio is of high quality it will generally add 10% to the value of a home. Local estate agents usually offer guidance here as they know the house sales market best.
How do you soundproof a room for music?
As well as our acoustic insulation as standard in walls, windows and doors we can direct you to sound-absorbing options to capture and reduce sound internally.
Can you build a studio in your garden?
Yes. Your studio can be for the benefit of arts and crafts, music or leisure.
How big can a garden studio be without planning?
Garden studios can often be 50% of your garden area but let's be real, that could be a little overpowering in size.
Can I live in a garden studio?
You can but as a habitable building, it will need to be built to the same Building Regulations that you follow to build a house.

Factory-built
This means minimal waste as fewer materials are used meaning there's less to deliver, resulting in a quick, clean site build.

Insulation at its best
Our walls contain up to 20 times the insulation of other buildings for lower heating bills.

Wood be good
Our refined methods allow us to keep timber use to a minimum. All materials are separated and recycled, with as little as one rubble sack of waste per order.
Buying local
Using British Made and local materials allows us to reduce the carbon footprint of materials whilst supporting our economy.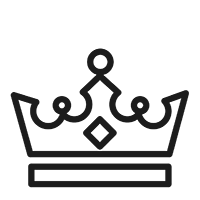 And us…
Our home show centre means your price includes no expensive show site, expensive marketing or sales commission.