Garden room power: The best way to get power to your garden room office or garden entertainment space

Whilst a garden room office normally needs no building regulation compliance, we do need to follow Part P of Building Regulations for electrics. This ensures safety and continuity of service.
Every installation starts with a survey of your home consumer unit (or fuse box). This will be replaced unless it complies with current regulations and be capable of providing an additional supply to your new building.
External cables are protected by a reinforced coating with an external plastic insulated coating. These can be located above or below ground and out of sight. If below ground, this needs to be at an extended depth to avoid that occasional fork or spade. This can be disruptive and expensive.
Sitting above ground may look less attractive but at low level can be less visible, safer and avoid the cable.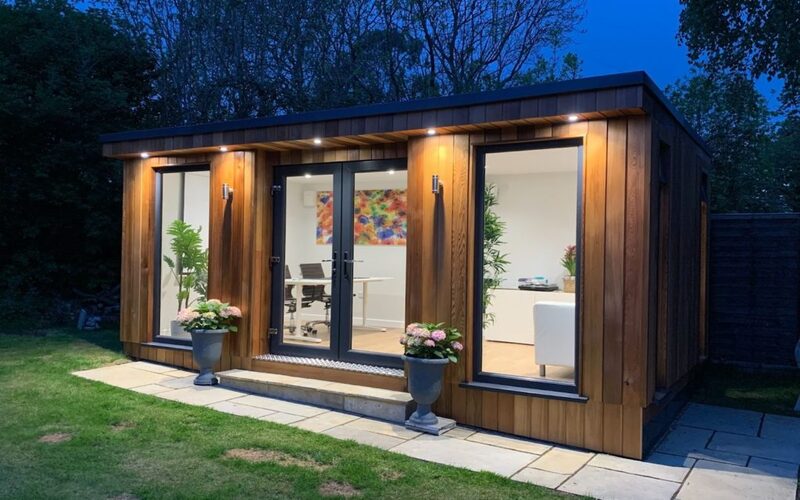 A second mini-consumer unit should be installed inside to allow you to turn off all power and isolate the building locally.
Costs will start at £360. Long lengths of cable will require an upgrade as to allow for power loss, both increasing costs along with any fixing and redecoration works.
Solar Power is becoming more relevant as prices rise and fossil fuel resources are used.
The Energy Saving Trust give great impartial advice and we love anything that helps preserve resources for future generations whilst reducing carbon emissions.
You can have Photovoltaic solar panels installed. This provides free power to your garden home gym or home studio. Whilst new battery packs can help store any excess created. These can be incorporated into an original build or added afterwards. As their height on a garden building may push heights above the 2.5m maximum that does not need planning. It's a good idea to check with your planning authority before installing anything. Also, check with your building installer to ensure that any fixings on a roof do not affect the external seal or any weight restrictions. Our own SIP construction and reinforced roofs will easily carry the weight of solar panels.
Costs start from £150 for a simple charging system.
TIP – If not already close, use the opportunity to add an external power point for less than £100
For more information on connecting power to your garden room please feel free to contact us.