Our primary concern will always remain the health and safety of customers, our team and the wider network of people we come into contact with. Kingdom Rooms operate to Government Covid-19 Regulations and Guidelines which may change from time to time.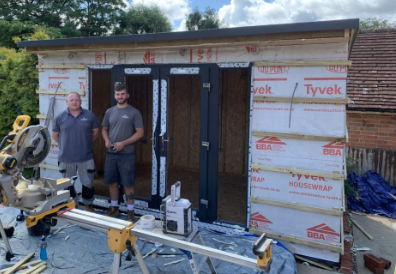 Generally..
We will wear masks inside your building and when working inside alongside other trades.
We will monitor the attendance of all trades on site as part of our track and trace.
If any on site team member tests positive for Covid-19 or is required to isolate, we will cease works on site
Our team members will test on a regular basis.
We may refuse an offer of refreshments from you in order retain a distance (please don't take offence).
We ask that you inform us immediately if any member of your household tests positive or is required to isolate.
Please inform us also if any member of your household is unwell and displaying symptons of Covid-19.
When entering the building whilst we are working or outside our hours, we ask that you use a facemask and santitise any surfaces touched before leaving.
When attending our show site, you need not wear a face mask outside but will be asked to join us in wearing one inside. The building is regularly sanitised for your safety.
Precautions taken will also help protect scheduled works for all of our customers. We often arrange to have materials on site well before we are due to start our works for you. We do this to enable us to quickly move across and start your order sooner (if you agree), should circumstances on another site cause delay or suspending of works.