We specialize in creating beautiful, bespoke garden rooms that will transform your outdoor space into a stunning retreat. Our garden room buildings are crafted with the utmost care and attention to detail, ensuring that each one is unique and tailored to your specific requirements. Whether you're looking for a home office, a home gym, a home studio or a TV room, our garden rooms provide the perfect solution. With years of experience and a passion for quality, we are proud to offer a range of options and finishes to suit every taste and budget.
Construction
Our garden room's SIP (structurally insulated panel) construction is actually the basis of timber frame house construction. This is used by many, including the prestigious house-builders, Taylor Wimpey. The SIP method is used to build quality buildings and homes that are designed to last.
The walls are almost 200mm thick when finished, providing superb structural strength alongside continuous PUR Polyurethane optimum insulation. Site build stud construction can be prone to moisture traps inside a wall where insulation is separately fitted.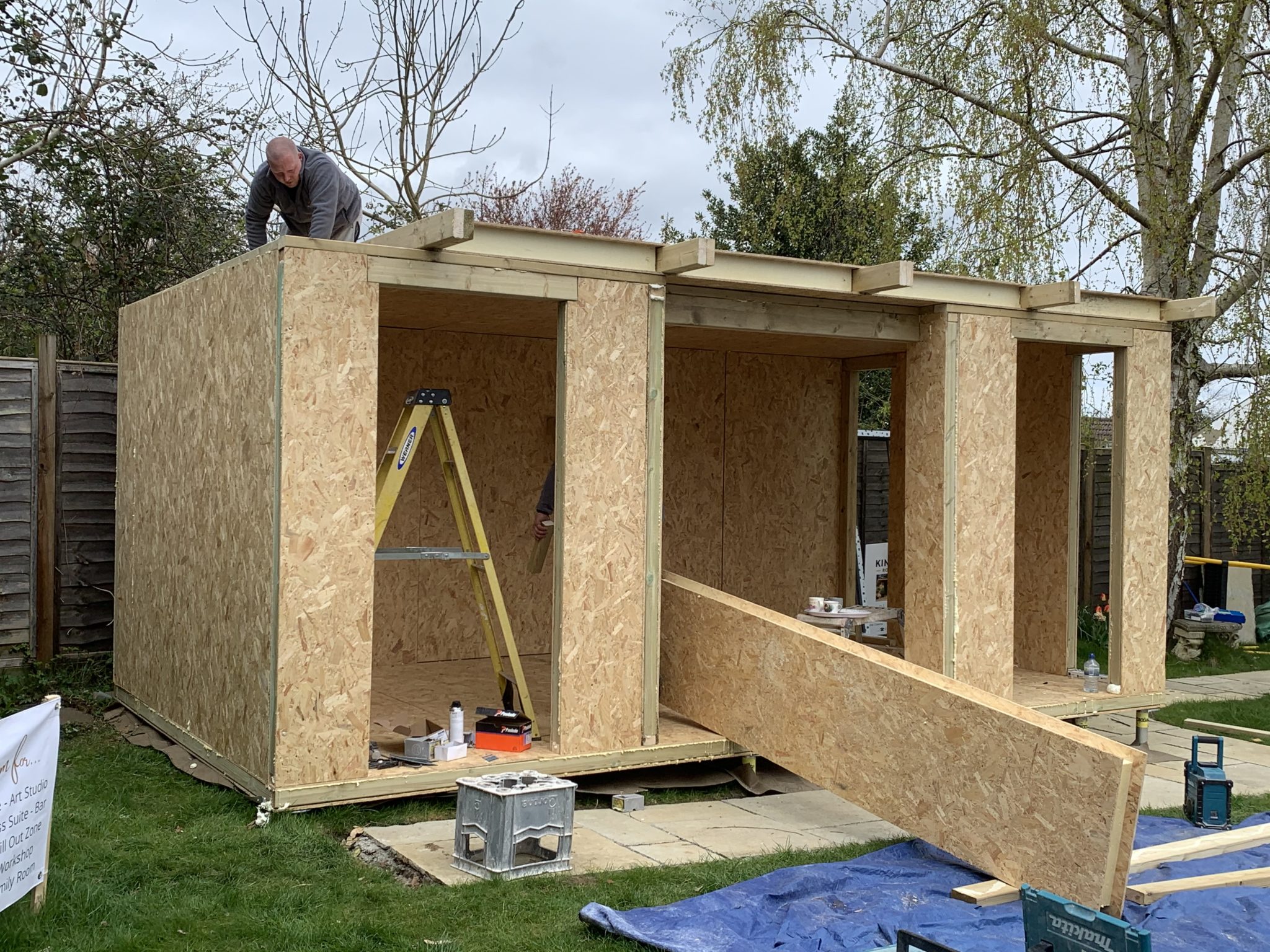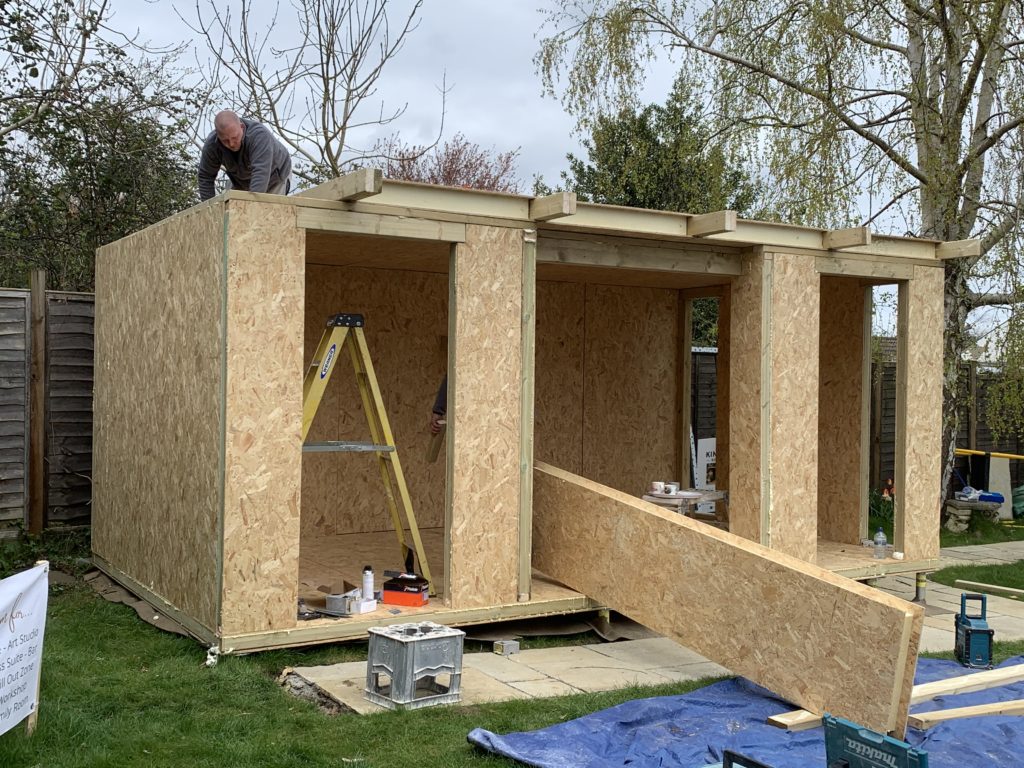 Thicker and even better insulating versions are available and used under building regulations with as low as an incredible 0.12 U Value.
Kingdom Rooms are produced with SIPs to the roof and floor for insulation and rigidity as well as all external walls. As well as thermal insulation, SIP panels also give excellent noise insulation, whether keeping noise in or out.
Being factory-produced, waste is minimal whilst build times are quick, clean and cost-efficient.
At Kingdom Rooms, we take pride in our garden rooms buildings super insulation, thanks to our SIP construction. Our garden rooms provide up to twenty times the insulation of a basic summerhouse, making them ideal for use all year round. We achieve this level of insulation with our high-spec walls, which meet even the most stringent Building Regulation requirements, and can achieve U values as low as 0.12.
In addition to our super-efficient walls, we use energy-efficient double glazing with safety glass rated A+. This complements our walls and ensures that our garden rooms remain insulated without sacrificing natural light.
Our EPDM rubberised roofs, external claddings, internal plasterboard, and an air gap beneath the floor also contribute to increasing insulation further.
We are committed to providing comfortable and energy-efficient spaces for our customers, which is why we go above and beyond when it comes to insulation.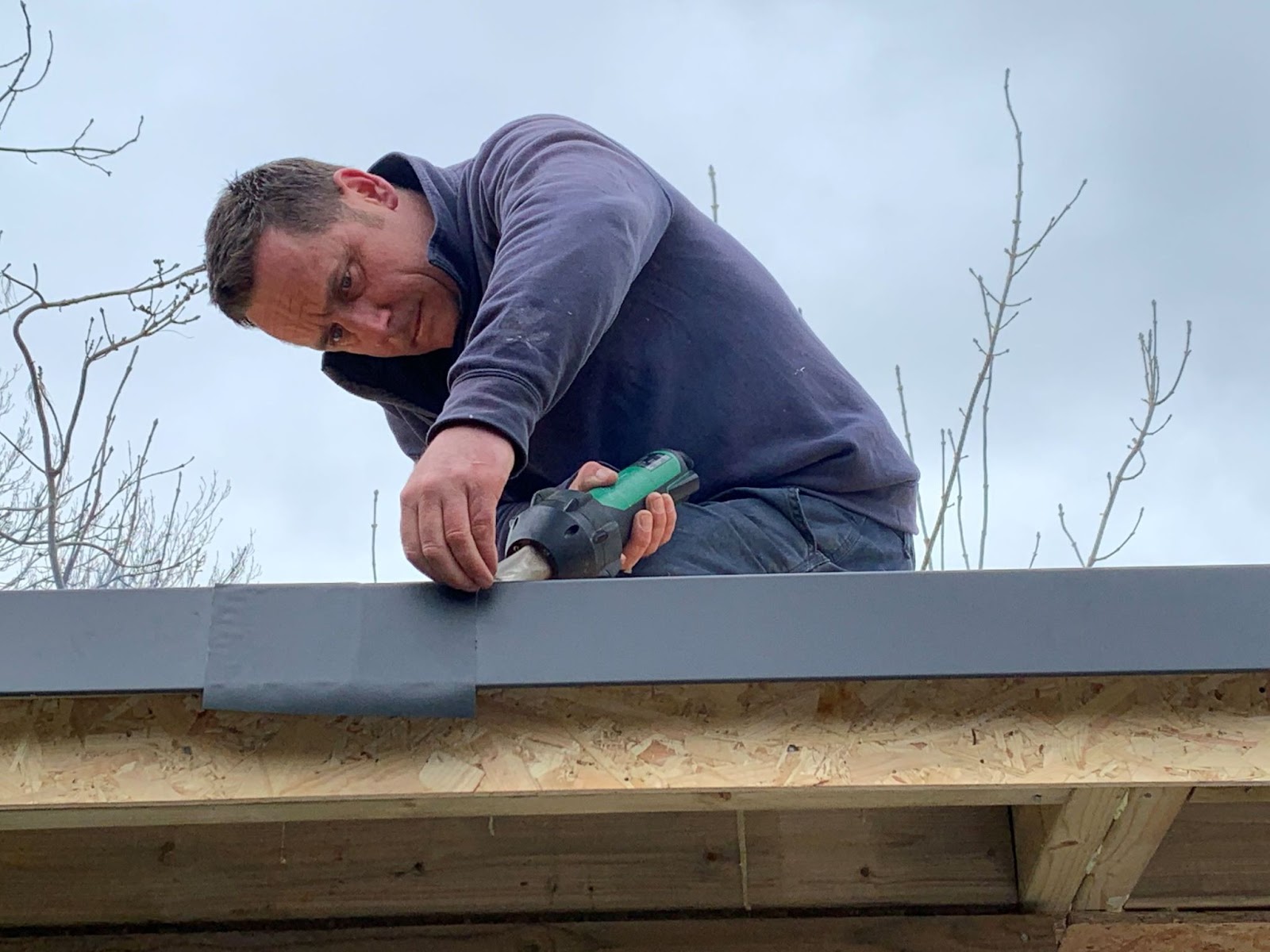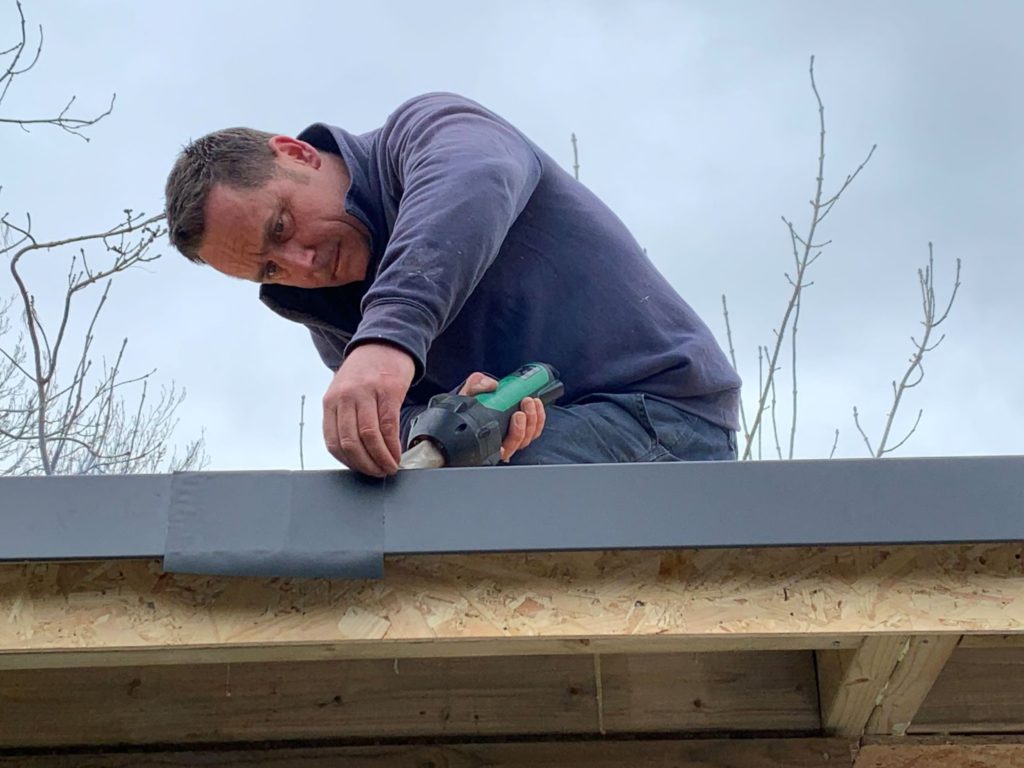 Our garden rooms are designed to be functional, stylish, and energy-efficient, providing you with a space you can enjoy all year round, no matter the weather.
We offer a wide range of high-quality doors and windows for garden studios and other outdoor spaces. Our PVC doors and windows are available in various colors and handle options, with insurance-approved locking and partial open ventilation to all windows. We also have French doors, single doors, tilt-and-turn, patio, and Bi-fold doors available.
For those who prefer a more modern look, we have aluminum and timber windows, doors, and bi-folding doors, which come with solar control, energy-saving, noise control, security, obscured, and feature glasses.
We also offer leaded and Georgian glass options, as well as a variety of frame colors to complement your garden studio or nearby buildings.
We prioritize safety and security by using A+ rated double glazing as standard and safety glass to prevent any potential accidents in the garden area. Our door thresholds are also 6cm lower than others, making them tougher and sturdier.
Furthermore, we understand that garden buildings are often targeted by burglars, which is why we use an insurance-approved locking system for all windows and doors. We can also extend your existing home alarms to your Kingdom Room for added peace of mind.
Electrics in our garden rooms
Whatever the purpose of your garden room, we can provide a range of electrical solutions to suit your needs. Our lighting options can be customised to create the perfect ambiance for any activity, from bright task lighting for workspaces to warm, cozy lighting for relaxation or entertainment areas. We can also install heating panels that provide efficient and effective heat, ensuring that your garden room stays comfortable throughout the year.
For those who require a home office or home studio, we can install plug connections and high-speed internet to ensure that you have a reliable and stable connection for your work. Our CAT6 cable connections allow for the addition of a Wifi device internally, ensuring that you can extend your use of devices without any interruptions or connectivity issues. We can also provide double sockets with A and NEW C-type USB charger points, making it easy to charge your devices without needing to use an additional plug.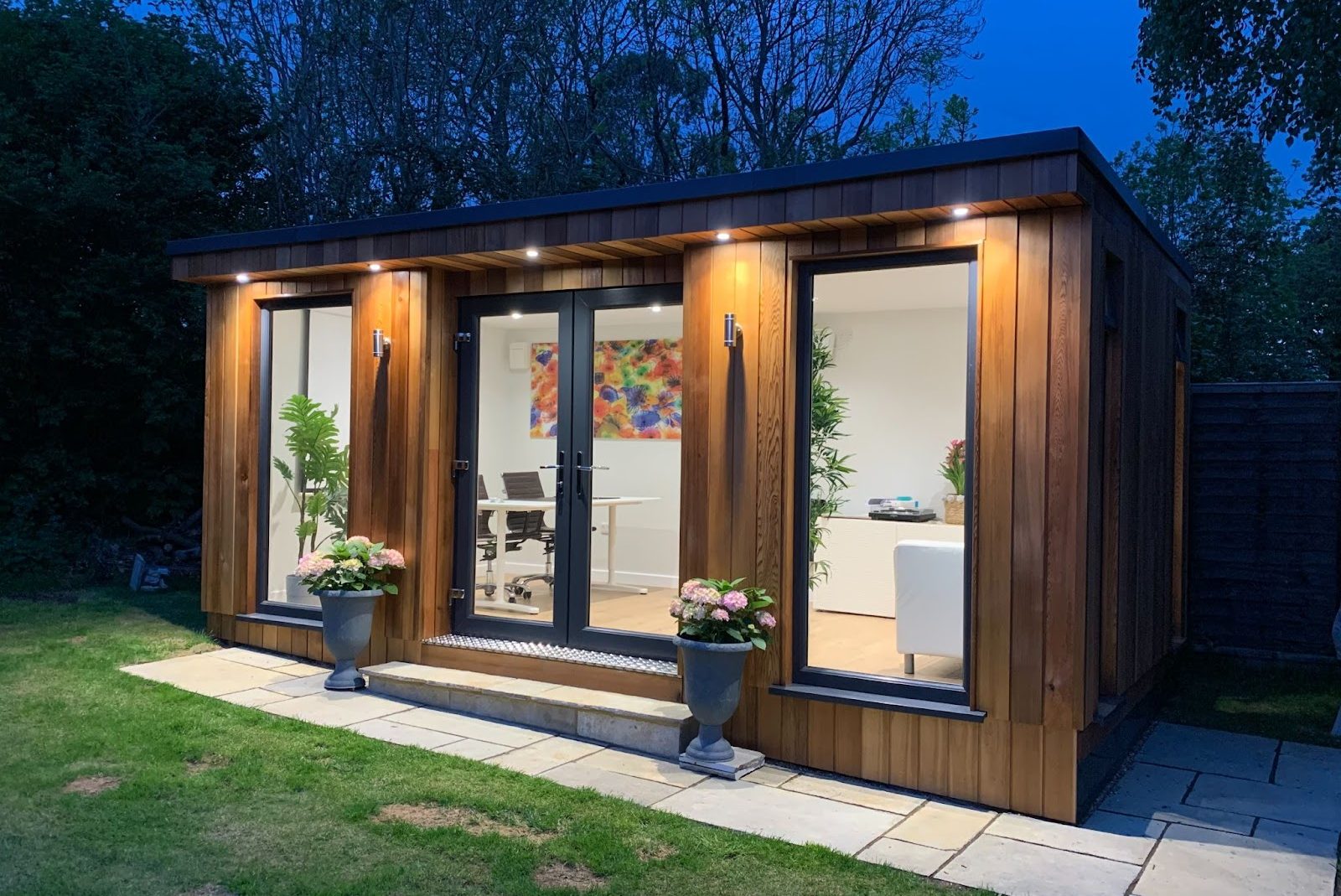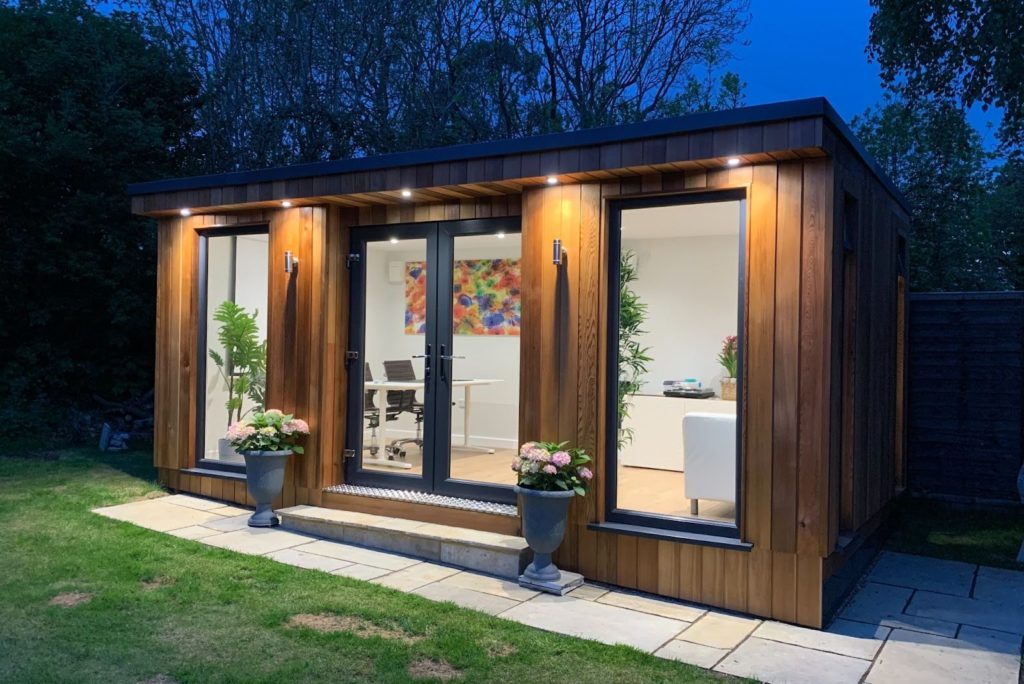 If you plan to use your garden room for entertainment purposes, we can install ambient lighting and heating panels to create the perfect atmosphere for movie nights or gaming sessions. Our external electrical sockets also make it easy to connect outdoor speakers, projectors, or other electrical devices, allowing you to fully customize your garden room to suit your needs.
Whatever your requirements, we can provide a flexible service that can help connect electrics to a current security system, upgrade IT systems, and install feature electrical installations. Our team of experts will work closely with you to create a garden room that is comfortable, functional, and customized to your specific needs.
Interior in our garden rooms
At Kingdom Rooms, we understand the importance of customization, which is why we offer our customers the freedom to choose the interior design and finish of their garden room based on their personal style and usage requirements.
Our standard finishing method includes plasterboard walls, which can be painted to match your aesthetic preferences. However, we also offer raw walls for those who want to save costs or prefer a more industrial look.
Cladding and paneling are also available, as well as various flooring options, such as laminate, carpet tiles, vinyl, engineered timber, and rubber gym flooring. We even have pine-cladded saunas for those who want to add a touch of luxury to their garden room buildings.
Materials
Externally, we offer many finishing materials for a traditional, contemporary or blending appeal. A clever aspect of this is that claddings can be changed at a later date, without affecting your building structure or interior. This can create a new building facade if your tastes change.
Redwood Cedar. This long-lasting Canadian-sourced Western Red Cedar cladding is as good as it gets, offering extreme life with enhanced UV protection from fading and weathering protection through our oil protection. Colours and grain will vary slightly for an assorted aesthetic.  Going forward, maintenance is extremely low and available in different profiles that can be horizontally or vertically placed.
Fortex. A recyclable plastic cladding in a variety of 11 colours.  The wipe-clean maintenance and feature grain make Fortex a popular choice for garden offices. The lower cost than Cedar makes this an ideal choice for lesser-seen sides in order to reduce cost.  Unlike lower-cost hollow plastic claddings, this 'cored' profile will not crack under the pressure of a ladder or occasional football.
Composite. Claddings are produced from a variety of materials, including recycled ones, to create a wood effect, low maintenance cladding in a variety of colours and wood effects and fire retardant options.
Thermowood. A softwood with consistent colour and stain finish from brown to black or paint. To extend the life of this wood, a treatment is forced through the timber in a heated vacuum.
Other wood cladding options from Kingdom. These options are bought to order and may increase delivery times. Costs increase as we need to buy surplus to our needs, whereas stock items use stock for any surplus needed on site.
Waney Board. An irregular cladding cut from wooden planks with no set straight edge. Available in hardwood and softwood timber. Suited to a natural stain, tint or Black stain finish.
British Larch. A softwood and cross between Waney board and Feature edge visually. Suited to a natural stain, tint or Black stain finish.
Feather Edge. A softwood with a rougher and tapered surface and regular edge. Suited to a natural stain, tint or Black stain finish.
Log Lap. A processed and consistent log with a convex face finish in softwood. Suited to a natural stain, tint or Black stain finish.
T&G Shiplap. A softwood horizontally set cladding. Suited to a natural stain, tint or Black stain finish.
Feature Panels. For a unique finish, we can include feature panels. Our show site has a feature artificial grass panel with hidden benefits you can see from a site visit.
Thanks to Pinterest for this inspirational image
All claddings are installed after we have fitted a breathable membrane to protect the SIP structure and double battens to facades which allow air movement behind in accordance with good building practice.
Our roofs use an EPDM rubber coating with edge trims. Designed to last longer and insulate better than alternative coatings, this is easily replaced or repaired in the case of damage such as storms.
A canopy or extended roof is very easy to achieve and provides excellent rain or sunshade. The skill is in the design to ensure that there is sufficient support for the weight and against wind load. 
The canopy area could also be a gazebo-type design produced with timbers and a no-solid roof area for partial shading and perhaps a haven for plant growth and wildlife.
And more. You may want us to create an area of decking or patio to enjoy your garden studio. Kingdom Rooms can also assist with the removal and replacement of fences, gates and obstacles. Fortunately, our clever machinery also allows us to access sites through a house with very little disturbance.
Access for you is also key and no one wants to enter a new building with muddy feet. Garden paths, decking, ramps and steps can also be provided for you or left for you and your own contractor to implement.
Made in Britain
Buying British makes sense in so many ways. Kingdom Rooms set out to and quickly achieved a Made in Britain accreditation. OK, some materials need to be imported but our main structures, windows, doors, glass and even our Danish oil treatments have been carefully sourced to comply as British Made.
Reduced deliveries reduce our carbon footprint
Shorter deliveries can reduce prices and avoid extended delays
Supporting our local economy is more relevant than ever as we protect UK jobs and pay British tax.
Andy has many years of experience in structural design and was responsible for repairs and glazing improvements at Kew Gardens in the 1990s and has words of wisdom after experiencing hurricane damage there.  'A fully enclosed building is normally stronger than an open-sided roof structure as the wind can be deflected away. A canopy design that allows high winds to escape can reduce the chance of high air pressure wind damage by forcing a roof upwards.'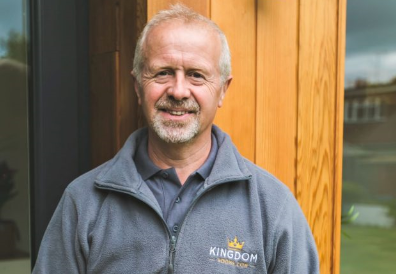 LETS and HMOs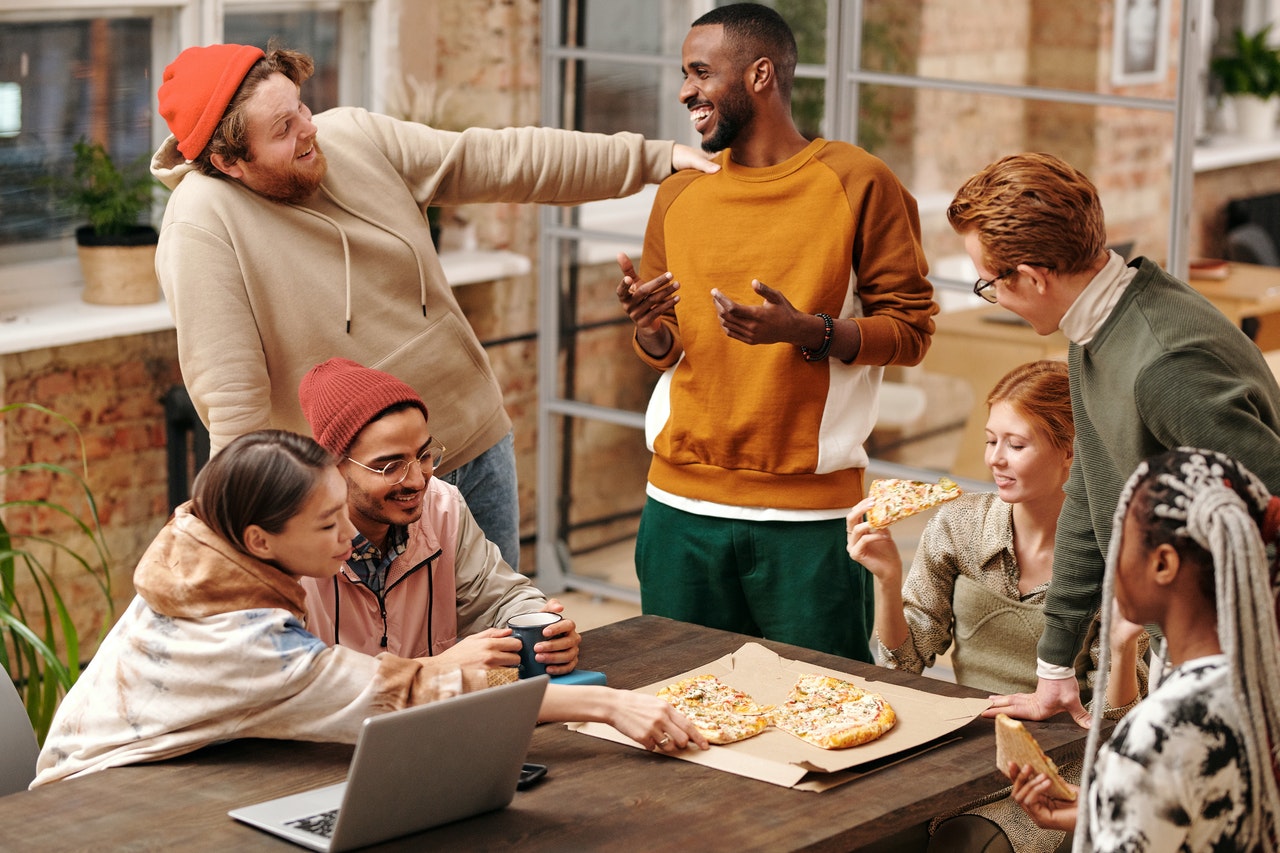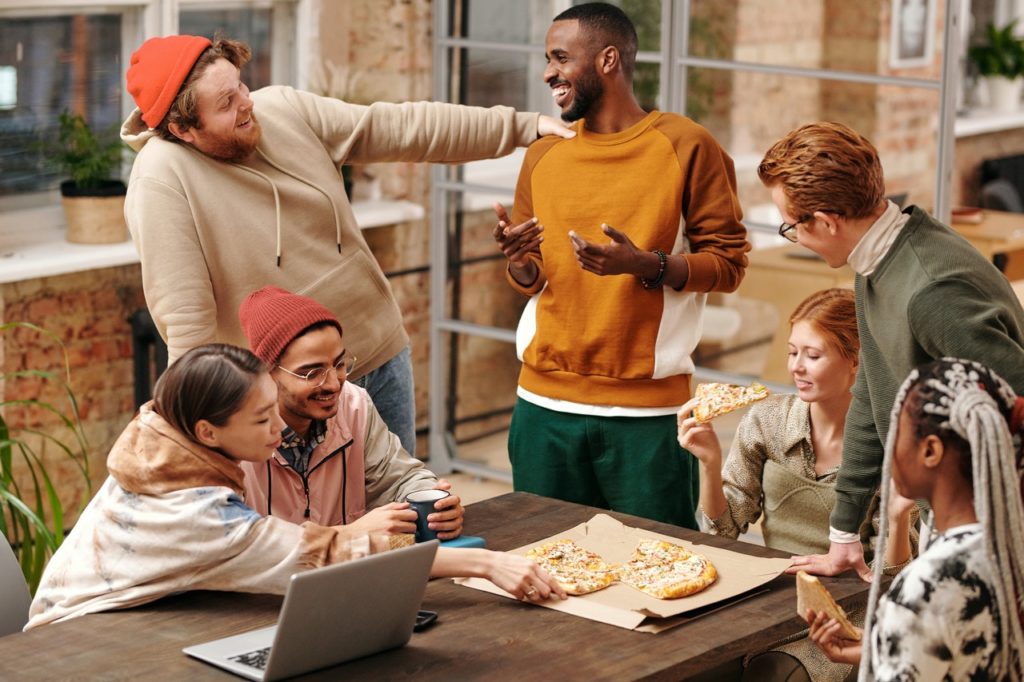 The experts at Parkers Estate Agents confirm that it's not just homebuyers that seek extra space, tenants seeking rental properties do too. Landlords can add extra quality space with a garden building. This could cost less than investing in a larger rental property and appeal to a wider audience of potential tenants.
Tenants also seek sleek clean properties and designs and colours along with reliable internet access Kingdom Rooms can offer.
HMOs (house in multiple occupancy) often rely on common space for tenants sharing a property. Using a garden building as this common space, storage or even a wash or utility room could free up another room to let. Alternatively, create a granny annexe as a separate lettable space as living accommodation. When you check out the cost of borrowing to fund, you will be surprised as to how profitable a new let accommodation building could be.